Gabrielle Martone of St. Joseph was recently named to the spring dean's list at the University of Wisconsin-Madison. To be eligible, students must complete a minimum of 12 graded degree credits. Each school or college sets its own grade-point requirements.
---
Connor MacKinney of St. Joseph graduated with honors May 5 from Montana State University in Bozeman.
---
The partners, associates and professional staff of the St. Cloud office of Stinson Leonard Street have joined Moss & Barnett. The transition includes Brian Schoenborn of St. Joseph, who joined as a shareholder. Schoenborn counsels individuals, families and business owners on business-succession planning, wealth preservation and estate-and-trust administration. He also provides general counsel representation to private and family businesses within the manufacturing, high technology and sports-and-entertainment industries.
---
Nadine Leibfried of St. Joseph recently earned her bachelor's degree in nursing from Western Governors University in Salt Lake City, Utah. The online, nonprofit university held commencement ceremonies earlier this year to celebrate the recent graduation of more than 15,000 students from across the country.
---
Felix Shouse Tourino has been awarded the Minnesota Music Teachers Association Grand Challenge Award trophy. During his seven years of piano study he has earned 2,500 points for participating in various musical competitions, performances and exams. The programs have required him to study music theory, keyboard skills and music history as well as performing repertoire. Shouse Tourino will enter the eighth grade at Kennedy Community School this fall.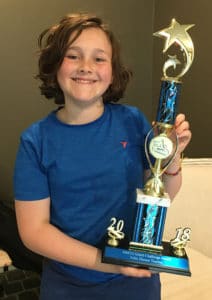 ---
St. Joseph Midco customers should expect overnight service interruptions while the company upgrades its equipment. The service interruptions will take place from midnight to 6 a.m. through Tuesday, Sept. 25. Each neighborhood should expect two- to three-day interruptions, according to the company. Customers will receive mail and email notifications for specific outage dates. If customers have questions about this technology update, they should go to www.Midco.com/Contact.
---
Brenny Transportation Inc. of St. Joseph has been named one of the Top 150 Workplaces in Minnesota by the Star Tribune. Top Workplaces recognizes the most progressive companies in Minnesota based on employee opinions measuring engagement, organizational health and satisfaction. The analysis included responses from more than 71,000 employees at Minnesota public, private and nonprofit organizations. Brenny Transportation was ranked 18th on the small-company list. Brenny Transportation has been listed in the Top Workplaces six times in the last seven years.