Emily Schneider, daughter of Marsha and Dave Schneider of St. Joseph, recently graduated from the College of St. Benedict, St. Joseph. She received a bachelor's degree in global business leadership.
Three St. Joseph students recently graduated from St. John's University, Collegeville.
They are the following: Jonathan Larson, son of Deb Stumvoll and Keith Larson, who earned a bachelor's degree in computer science; Luke Loso, son of Patrice and Neil Loso, who earned a bachelor's degree in physics; and Joel Roske, son of Peggy and Michael Roske, who earned a bachelor's degree cum laude in environmental studies and Hispanic studies. Cum laude indicates a grade-point average between 3.65 and 3.75.
Ben Thomas, son of Geri and Bill Thomas of St. Joseph, recently graduated from Rocori High School, Cold Spring.
Three St. Joseph students recently graduated from the University of North Dakota, Grand Forks.
They are Jake Braegelmann, who graduated cum laude with a bachelor's degree; Samantha Braegelmann, who earned a doctorate in physical therapy; and Alyssa Kostreba, who earned a bachelor's degree in general studies.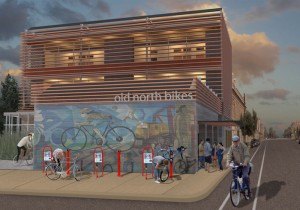 Stephen Danielson was a member of one of the three winning teams of Iowa State University architecture graduate students, who are among the winners of a national American Institute of Architects' student competition. Danielson, with student partner Benjamine Kruse, won with their project entitled, "Old North Bikes: Human Powered Revitalization in Old North St. Louis." More than 400 students from 38 schools participated in the competition.
Danielson is the son of Carol and Doug Danielson of St. Joseph and earned his undergraduate bachelor's degree in architecture from the University of Minnesota-Twin Cities.
Students explored the relationship between buildings and environmental forces to produce design projects that make efficient use of energy, water, material and other resources, with the goal of achieving a sustainable and net- zero-energy building design (one that consumes roughly the same amount of energy as it produces).
"They were required to calculate annual energy consumption and design a building efficient enough that incorporating on-site renewables like active and passive solar would produce the necessary amount of energy over the course of one year," said associate professor Ulrike Passe.
The class addressed a site in Old North St. Louis, an original streetcar suburb of St. Louis that is now part of the city proper and after years of deterioration is undergoing major redevelopment, restoration and rehabilitation.
Fourteen St. Joseph students were recently named to the spring dean's list at St. Cloud State University.
They and their majors are as follows: Dallas Haugen, pre-chiropractic; Hannah Kalla, elementary education; Chelsea Christman, English; Brett Eisenschenk, elementary/K-6 education; Jake Hawkins, psychology; Seth Hennagir, chemistry professional ACS approved; Jessica Johnson, mass communications; Jenna Klein, elementary education; Tanner Schafer, health and physical education; Vanessa Ulrich, nursing; Daniel Bennett, geography; Kelli Halek, communication studies; Michelle Lahr, community psychology; and Michael Schmitz, biomedical sciences.
To be eligible for the honor, students must have a grade point average of 3.75 or higher on a 4.0 scale.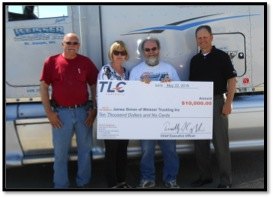 Local driver honored as TLC's 2014 Top Dog
James Simon, a 15-year driver for Weisser Trucking Inc. based in St. Joseph, and leased to Walters Trucking in Sauk Centre, Minn. was honored as the 2014 TLC Top Dog Award winner on May 22. Simon was awarded a check for $10,000 by Tim Coughlin, president and CEO of TLC Cos., and accompanied by Kevin and Bonnie Weisser.
James was surrounded by his wife Vicki, and two of their children Nathan and Natasha, along with Dave Walters (owner of Walter's Trucking), and Butch VonWahlde (Walter's operations manager).
James "Jimmy" Simon has been participating in the TLC Top Dog contest since its inception in 2001, and had received other monthly and quarterly awards throughout the past 15 years. Simon was completely surprised to learn so many people knew he had won the Top Dog award, but no one said anything to him. Simon stated he loved what he does, and could not believe he was being rewarded for doing his job. Simon thought prior year Top Dog winners were only actors having their picture taken.
Simon began his driving career in 1970 and drove until 1979, when he started farming. He returned to the transportation industry in 2000, and began working for Weisser Trucking Inc. Simon now has a dedicated run which keeps him regional, but would step up without question if Walters Trucking needed his assistance.
Simon was randomly selected from a group of drivers from across the country who had to meet strict qualifications, which included a clean driving record, no preventable motor-vehicle accidents and no worker's-compensation claims during the contest year. TLC Cos. has corporate offices in Brooklyn Center, Minn.
When asked what he would do with the money, Simon's first words were to make a donation to the local food shelf and undecided after that. Simon is a humble man who is dedicated to safety and the people around him. He enjoys old cars and car shows when he is not driving, or tending to his cows.
Brenda Corrow, St. Joseph, was recently named to the spring dean's list at Ridgewater College in Willmar. Students must maintain a minimum grade-point average of 3.5 to qualify.