by Cori Hilsgen
news@thenewsleaders.com
The Kennedy Colts Honor Choir performed on Feb. 21 and 22 at the 13th annual "Night of the Stars" benefit held at the Paramount Theatre.
This is the first year Kennedy performed in the program. Most of the the performers were students from Apollo and Tech high schools.
The choir's director is Kristen Mattick.
"Kennedy students had a blast performing in front of approximately 600 people on both nights (to) nearly sold out audiences," Mattick said.
The variety show benefit was first held in 2002 by the St. Cloud School District's Local Education and Activities Foundation to save junior-high-school activities. Money raised benefits the student-activities program.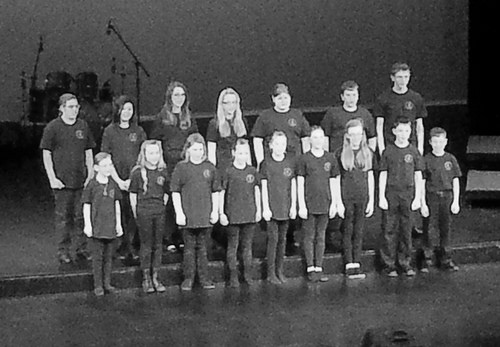 contributed photo
The Kennedy Colts Honor Choir participated at the 13th annual LEAF "Night of the Stars" concerts on Feb. 21 and 22. The choir sang under the direction of Kristen Mattick. Pictured are the following (front row, left to right) Emily Anderson, Isabelle Hoeschen, Gabbie Frank, Kallie Larson, Courtney Larson, Mallory Schneider, Caitlin Popp, Maison Zimmer and Gavin Buersken; (second row) Paige Cox, Faith Mercader, Katie Lygre, Greta Neigum, Monica Rodel, Parker Cox and Zach Schiltz. Not pictured but performed on Feb. 21 are Jan Rose Davis, Caylan Guse, Sophie Houghton, Haley Joos, Anna Penticuff and Lydia Peters.