by Cori Hilsgen
news@thenewsleaders.com
The Y2K Lions recently donated $400 to the Stearns County Explorer Post 250 to help fund expenses for an Explorer to attend the April 24-26 state competition in Rochester.
St. Joseph resident Stearns County Deputy Sheriff Brian Theisen attended the March 11 Y2K Lions meeting to discuss the program and accept the donation.
Theisen is one of four lead advisers from the Stearns County Sheriff's office who teaches and directs Explorer Post 250. The other three lead advisers are Deputy Eric Schultz, Jail Sgt. Steven Nohner and Deputy Tyler Johnson.
Theisen, who has been an adviser since 2008-09, said the Explorer Post is a branch of the Boy Scouts of America and offers youth ages 15-21 a chance to learn about law enforcement careers. The program is about 30 years old.
Explorers meet from 6-8 p.m. on Sundays. Currently, Explorer Post 250 has 19 members of boys and girls. New members are usually recruited in August and September.
Youth explorers start in the program by learning first aid, how to talk on the radio and geography of the county. They have several tests they are required to pass in each of these skills.
After the Explorers pass the tests, they are issued a uniform, which differs from the uniforms that patrol deputies wear. The Explorer uniforms are all brown.
The Explorers then begin training in different scenarios, such as traffic stops, domestic calls and more.
Theisen said the Explorers work hard to learn how to work these scenarios because they go on to compete at the statewide Explorer Post competition in Rochester each year. At the competition, they compete against Explorer Posts from northern Minnesota to the Minneapolis/St. Paul Metro area.
Besides the four lead advisers, other employees of the Sheriff's Office also assist with some of the Explorer training.
"I enjoy being an adviser because I am able to be a positive role model for today's youth, who don't always have many positives in their life," Theisen said. "I have had the chance to train Explorers who have gone to college and have been hired with the Stearns County Sheriff's Office and are now currently my partners. That is what makes being an adviser rewarding, seeing them grow and transition into their career."
He said the Explorers help with community service in various areas such as working and assisting with traffic control for events such as the Polar Plunge in Rockville; Sartell Community Lights events; Harvest of Horrors in St. Augusta; Relay for Life walk at Apollo High School; providing security at Camp Ripley by Little Falls, scouting events at St. Cloud State University; and other large scouting events.
"Explorers enjoy assisting at many of these events and it's a great way for them to interact with the public," Theisen said.
The state competition in Rochester costs around $400 per explorer. This includes hotel and food costs for four days.
"Rochester is a great experience for the kids as they get to meet Explorers from all over the state," Theisen said.
The St. Joseph Lions also donated to the program. The Explorers usually also hold several meat raffles during the year to help raise funds to send all Explorers to the competition.
Theisen has been employed with the Stearns County Sheriff's office since 2001. He has lived in St. Joseph since 2004, and said he calls St. Joseph his home and takes pride in the community.
Theisen has been a member of the St. Joseph Fire Department for seven years. He was also elected as a St. Joseph City Council member in January 2019.
"Being on the Fire Department and City Council (has) been a wonderful experience for me to give back and help the community," he said. "I hope both will continue for a long time."
Theisen and his wife Barb are parents to five children.
For additional information about the Explorers program, contact Theisen by email at brian.theisen@co.stearns.mn.us.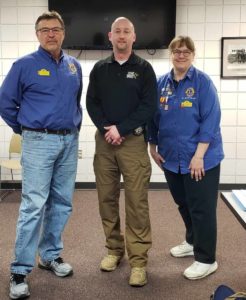 photo by Carolyn Bertsch
St. Joseph Y2K Lions members (left) Ralph Boeckers and Becky Staneart (right) discuss the Stearns County Explorer Program with lead adviser Stearns County Sheriff's Deputy Brian Theisen. The Y2K Lions donated funds March 11 to send an Explorer to the April 24-26 Rochester state competition. Boeckers worked for the Stearns County Sheriff's Department for 30 years and Theisen has been employed with the office since 2001.