by Heidi L. Everett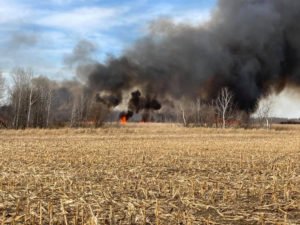 Shortly after noon Nov. 6, the St. Joseph Fire Department was called to a grass fire in St. Wendel Township between County Road 2 and Jenny Lane. The Stearns County Sheriff's Office, Avon Fire Department, Sartell Fire Department, St. Stephen Fire Department and the Minnesota DNR also responded.
According to reports, Brent Simon, St. Joseph, had burned some brush on the evening of Nov. 5. He put the fire out at approximately 10:30 p.m. The following morning, Simon checked the fire remnants and noticed a little smoke coming from the brush pile. He put additional water on the pile and left for work. Around noon, the brush pile had started the wetland area on fire.
Fire crews spent approximately five hours at the scene. No injuries were reported. In terms of personal property, two deer stands were destroyed in the blaze.