Henry Ray Cummings, first grandchild of Newsleader delivery driver Glen Lauer of St. Stephen, was born Tuesday, March 10 at St. Cloud Hospital. Parents are Sally and Ray Cummings, St. Cloud.
He weighed 7 pounds 6 ounces and measured 20 inches long.
•••••••••••••••••••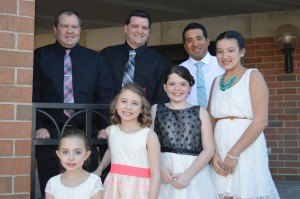 •••••••••••••••••
Erin Nelson, sophomore, daughter of Leah and Kevin Nelson, is a member of the Mustang Maniacs Club at Southwest Minnesota State University for the 2014-15 academic year. The Mustang Maniacs is a student spirit group/booster club to lend support to Mustang Athletics at SMSU.
•••••••••••••••••••
Jennie (Lahr) Friedrich, a St. Joseph native and 2000 Apollo High School graduate, is among five who will be inducted into the Northern Michigan University Sports Hall of Fame for cross country and track and field on Saturday, April 18 at NMU in Marquette, Mich. Her parents, Peggy and Norman Lahr, reside in St. Joseph.
Friedrich competed for the Wildcats from 2001-05 for both the cross country and track and field programs earning eight letters. She was an All-American after finishing third in the mile at the 2005 NCAA Division II Indoor Track and Field Championship. While qualifying for the same event, she clocked the fastest time in the mile that year at 4:47.05 and still holds the Great Lakes Intercollegiate Athletic Conference record for the indoor mile. She also earned All-American status in cross country in 2003. She competed in seven NCAA Championships as a Wildcat in cross country and indoor and outdoor track and field. She served as captain for the cross-country program for three years and for the track-and-field program for two. She graduated with a bachelor's degree in elementary education in 2005.
The event is open to the public but tickets must be purchased in advance through the Superior Dome Ticket office or online at www.nmu.edu/tickets.