by Dennis Dalman
editor@thenewsleaders.com
Family and friends will cheer on the "More Than Pink" girls when they compete in the "Back To School 5k" race Saturday, Sept. 13 at Sartell Middle School. (For more about that event, see story in this week's edition.)
There are 13 girls in the More Than Pink, a summer program now in its second season designed to boost the self-esteem, confidence and empowerment of girls from grades 3-6. In late July, the "Pink" girls did a practice race to prepare them for the Back to School race.
During June and July, the girls enrolled in the program met twice weekly, Mondays and Wednesdays, from 10 a.m.-noon, for eight weeks. At each meeting, the girls learned, often through guest speakers, about topics that can include everything from cybernet bullying to peer pressure, from budgeting to family issues.
Recently, Jen Novak of PineCone Vision demonstrated a Photoshop session for the girls, showing how magazines can use photo techniques to make models appear more attractive or thinner than they are in "real life." It was a way to teach the girls the psychological pitfalls of believing in mythical "body perfection," which is all but nonexistent.
After their classes, the girls spend the second hour of each session having fun by biking, walking, running, rollerblading, jumping rope and dancing Zumba.
The two main instructors for More Than Pink are Katie Werle, a special-education teacher in the Early Childhood Program, and Mary Bentley, a Sartell resident who teaches fourth-grade in Foley.
More Than Pink was started in Sartell by Ann Doyscher-Domres, the director of the Sartell-St. Stephen Community Education program. She became aware of the program in the community-education program at Waconia a few years ago. Doyscher-Domres then brought the same program to Sartell in the summer of 2013.
"This (course) is invaluable," she said. "These girls have so much pressure on them, even when they're in third grade. More Than Pink is all about being yourself, being smart and being strong and bold."
Doyscher-Domres and others involved with the program do wish there were more enrollees, but they believe that will improve as more people become aware of the effectiveness of the program in developing confident girls brimming with self-esteem and the ability to assert themselves. Last summer, 13 girls enrolled, the same number as this summer. Ultimately, the program's instructors would like to see More Than Pink available during the school year, as well as summers.
More Than Pink is also always seeking professionals who would like to give of their time teaching a class or two on any topic that would help empower the girls.
Any parent who wants to learn more about More Than Pink should call Doyscher-Domres at 320-656-3701.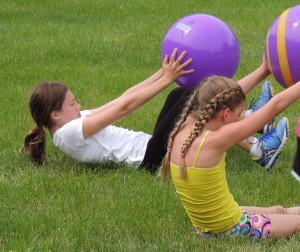 contributed photo
Two girls in the "More Than Pink" program do exercises to get in shape for the annual Back to School 5k run, which will take place Sept. 13 at Sartell Middle School.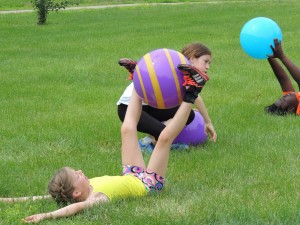 contributed photo
Girls in the "More Than Pink" program do one of their post-class exercise sessions. Their frequent workouts will stand them in good stead when they participate in the Back to School 5k Run Sept. 13.