by Cori Hilsgen
news@thenewsleaders.com
Emily Frericks, the director of Marketing and Public Relations of Country Manor/Woodcrest of Country Manor, said they have had to make difficult decisions to implement new policies to help keep people in their buildings safe during the Covid-19 pandemic.
While the stay-at-home order by Gov. Tim Walz is in place, management at Country Manor is strongly recommending families to stay home to protect themselves. They have not been allowing visitors on its campuses since mid-March. Gatherings like window birthday parties outside of tenant room windows or near screened patios or porches are also not allowed.
These new policies have created changes for tenants at Woodcrest of Country Manor/Assisted Living/Home Health Care (includes all tenants of Woodcrest suites and Woodcrest Apartments) in St. Joseph.
Because things are changing often, Country Manor management is working around-the-clock to keep everyone safe and policies are subject to change at any time. Updates can be found on its website and corporate Facebook page. Safeguarding the quality of life for people in the Country Manor facilities remains a vital part of the work staff.
Country Manor has a strict No Admittance policy. Entrances are being monitored and drop-offs and pick-ups must be done at the main entrance/door. People are asked to call in advance to schedule these so a staff member can get items to tenants safely.
Home Health Care is allowed but does not include nonmedical care, custodial care or private-duty care, which refers to assistance and services provided by persons who are not nurses, doctors or other licensed medical personnel. For terminally ill patients, Home Health Care may include hospice care. Companionship is not considered an essential service during pandemic situations.
Essential healthcare workers are allowed into buildings and include facility staff, therapists, home health, hospice providers, dialysis staff, physicians, necessary lab/x-ray staff, clergy, specialized transportation drivers, local public health, the ombudsman, state agency survey staff, and Minnesota Department of Human Services staff.
Because of the high volume of telephone calls, families are asked to designate a primary family member to place calls and give information to other members of the family.
Frericks said tenants of Woodcrest remain in good spirits and continue to express their appreciation for the many extra efforts being made to keep them safe and healthy.
"Woodcrest staff are doing everything they can to keep life as normal as possible for all tenants," she said. "There is no area that has been untouched by the changes made (during) the last month at Woodcrest."
Even though many modifications to daily operations and routines have been made, life within the walls of Country Manor continues to be active.
Spiritual Care, wellness/exercise and social activities are being introduced in new ways. Either on a one-on-one basis or in small groups in low traffic and spacious areas where tenants can remain 6 feet apart. Tenants are screened before attending activities.
Country Manor facilities are equipped with devices that offer FaceTime and Skype calls and staff is trying to offer as many video calls with families as possible to keep people connected with their loved ones. Extra hours have been allotted to help tenants with this program. As able, staff works to capture happenings throughout campuses to share with families on the corporate Facebook page.
The culinary department and staff are trying to help residents maintain good nutrition through meal plans offered and adjustments to dining procedures and arrangements to keep diners safe. Loved ones are allowed to drop off pre-made meals.
Tenants are encouraged to enjoy outdoor areas which include walking trails, but social distancing rules still apply. Staff takes tenants out to get fresh air and some staff have written encouraging messages and entertaining jokes on walking paths for tenants to read.
Country Manor staff have new requirements when they go to work. All staff are required to enter buildings through the main entrance and everyone is screened before each shift. Anyone who is experiencing symptoms such as cough, shortness of breath, fever or sore throat, or who has been directly exposed to someone that has tested positive for Covid-19 is required to notify their supervisor.
Even though Country Manor does not anticipate a shortage of supplies, staff is asked to conserve and only use what they need. Housekeeping and laundry teams have drastically increased sanitization efforts.
Frericks said while the world practices social distancing to protect against the spread of Covid-19, which they greatly appreciate, Country Manor staff are standing on the front lines ready for battle.
Country Manor has a workforce of nearly 700 employees that continue to show up to do everything they can to keep life as safe, enjoyable and normal as possible for all who call its facilities home.
Frericks said for about a month, staff has adhered to daily health screenings, and inconvenient yet necessary additional precautions/sanitizing that have been added to their already rigorous schedules. They have had to adjust every part of their day to ensure residents and tenants are not only receiving the health care needed, but the physical, social and emotional support required to sustain Country Manor's commitment to a superior quality of life.
"At times like this, it is all hands on deck," she said. "Everyone is working side-by-side, with the same motivating factor – to keep all those we care for, and all those who care for them safe."
While they are unable to celebrate life the way they normally do, their team of employees continues to create innovative ways to keep tenants feeling safe, cared for and entertained.
"These are uncertain times for many, but one thing we want to assure you of is our team will continue to show up and do whatever it takes to care for our tenants the way we always have," Frericks said. "We hope in the midst of the dark cloud hovering over our world, you may find peace knowing there is no shortage of light and love within the walls of Woodcrest of Country Manor."
She expressed thanks to tenants for trusting them, as they continue to do everything they can to uphold their promise to keep them safe; to families for their patience, cooperation and understanding; to the area for offering support in a variety of ways; and most importantly to their team for its unwavering devotion to the work they do and the people they serve.
"We are humbled, inspired and proud," Frericks said. "We look forward to celebrating life with our greater community and loved ones again soon. In the meantime, please know we are still dancing, singing and laughing our days away."
Country Manor is currently accepting supply donations at its main entrance. Items they need include masks (N95, surgical and handmade cloth masks are needed), thermometers and thermometer covers, hand sanitizer (must be 60 percent alcohol), surgical gloves, personal protective equipment, toilet paper, Lysol wipes (or medical-grade sanitizing wipes), iPads, individually wrapped, store-bought snacks for staff, gift cards to local restaurants for food for staff and financial donations to help alleviate added costs of equipment, cleaning supplies and staffing.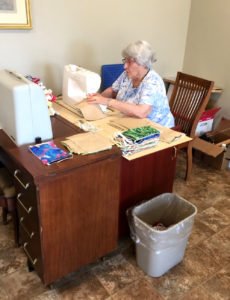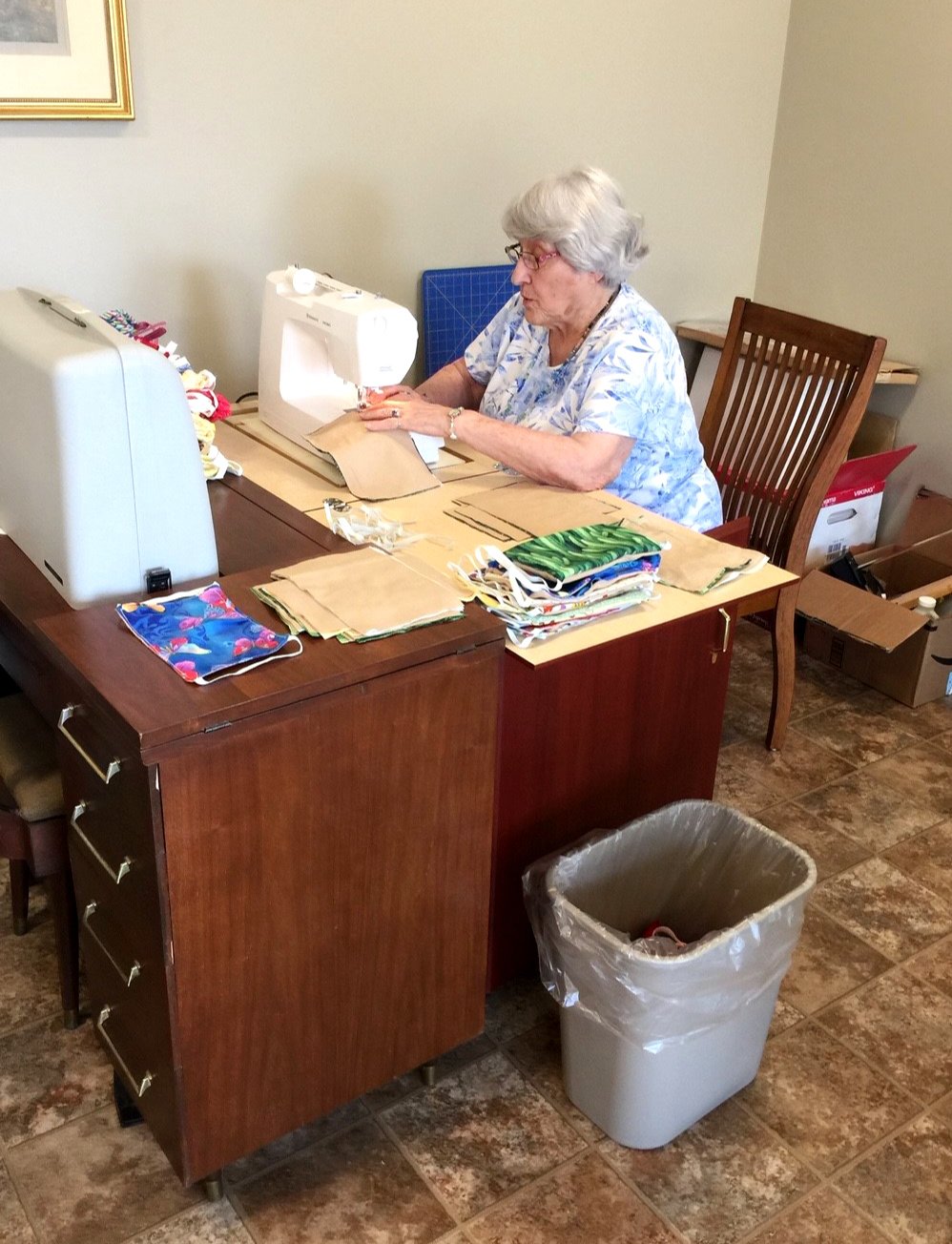 contributed photo
Woodcrest tenant Lavern Hruska sews a cloth mask for staff. When Hruska and other tenants overheard staff discussing the need for cloth masks, they decided to put their talents to use by helping sew masks for staff and other tenants.