by Jeff Velline
St. Joseph
Cultural Bridges member
Here in St. Joseph, we live on land that once belonged to the Dakota Sioux people. Near the baseball field in what is called "Monument Park," a granite memorial commemorates buildings the settlers had constructed to protect themselves FROM the Sioux during the infamous uprisings of 1862. It was at about this time Nicholas Black Elk was born.
The Pine Ridge Reservation, The Black Hills, Wounded Knee, Little Bighorn… years ago I visited these important places. What began like any young man's adventure into the "wild west," ultimately became an attempt to understand the historical and human significance: to pay respect. This started a life-long curiosity with many travels and many books, one of which was "Black Elk Speaks," the story of Nicholas Black Elk, a spiritual leader of the Lakota Sioux.
Fascinated to learn more about Native American spirituality, I was equally intrigued to learn that Black Elk had also become a Catholic in 1904. The same person who was a witness to Custer's Last Stand as a teenager, forced onto a reservation with his people as a young adult, and witnessed the horrific Massacre at Wounded Knee, ultimately inspired spiritual common ground where it might be least expected.
Black Elk's ability to live simultaneously in two worlds as the entire culture of his people was turned upside down inside of one generation is inspiring. That he could see spirituality as something bigger than religion, something that we could all share, helped to reconcile vast differences and build the kind of bridge that we can all travel on if we choose.
I find it extremely significant that, as a result of his remarkable story, Nicholas Black Elk is now being considered for sainthood. His cause was presented to the Vatican in Rome just a few years ago. Whether he is canonized or not, his will always be a poignant story of divergent cultures and beliefs coming together while retaining important traditions. His legacy, at least in part, seems to thread the needle that stitches together common ground in a multi-cultural, multi-racial and multi-spiritual country that is America.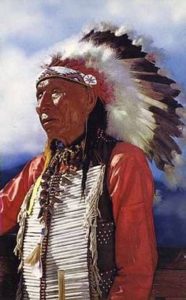 ---
Cultural Connections is a regular guest column from JoeTown Cultural Bridges. If you have any questions about this column, contact Juliana Howard at 715-791-8976 or Jamal Elmi at 320-310-2351. Or, email joetownculturalbridges@gmail.com