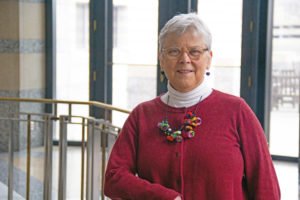 Annette Atkins, professor emerita at College of St. Benedict and St. John's University, was named a historian laureate by the Stearns County Board of Commissioners at its Nov. 3 meeting. The honor recognizes her professionalism, zest for history, and more than 30 years of service promoting the rich history of Stearns County and Central Minnesota.
A historian laureate promotes the history of a region and its citizens by documenting, researching, interpreting, and speaking about the people, places and events that have created the fabric of an area.
Atkins' advocacy for local history is unparalleled. She supports the representation of all people through programs, exhibits and research at the Museum and throughout the community. She most recently led "Missing Pieces," a walking tour of St. Cloud, which explored the influence of race on the city and the state of Minnesota.
She's also authored several articles and books, including "Creating Minnesota: A History from the Inside Out, an innovative state history, and Challenging Women Since 1913," a history of the College of St. Benedict and women's higher education.
Atkins' professional goal is to create a sense of connection between contemporary individuals and their history. Atkins has been on the Stearns History Museum's board of directors for more than 14 years and also served as its interim director for one year.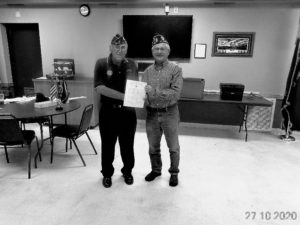 Legionnaire Othmar Schmitz, a veteran of the Korean War, was presented a certificate for 70 consecutive years of active service in Legion Post 328, St Joseph, issued by the National Legion commander James Oxford. The certificate was awarded at the regular Post meeting on Oct. 27 by Post Commander Chuck Kern.
St. Joseph resident Jenny Jacobs of Weichert Realtors-Tower Properties in Waite Park recently earned the Graduate REALTOR® Institute (GRI) designation, as she joined some of the nation's top REALTORS® in the industry who hold the highly-acclaimed designation. The institute is designed to educate practitioners about local, state and national real estate practices.
To earn her GRI designation, Jacobs attended a series of intensive classroom instruction that covered a wide range of subjects, including professional standards, legal issues, sales, marketing, finance, risk reduction, technology and social media.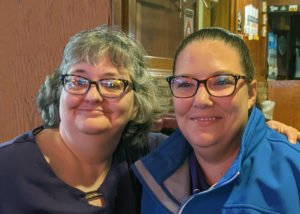 Charity Hunter and Frances Nelson of the St. Joseph Women of Today were both honored with a Presidential Pin at the Minnesota Women of Today Fall State Convention held recently in Baxter. The Presidential Pin is designed to recognize a member's commitment to her local chapter. It exemplifies dedication and belief in the Women of Today creed that emphasizes service to the community, personal growth, and friendship. State President Illeana Miller personally selected Hunter and Nelson for this award.
Hunter is currently serving as secretary, and Nelson is the membership vice president for the chapter this year. The St. Joseph chapter of the Minnesota Women of Today is a community service and leadership training organization.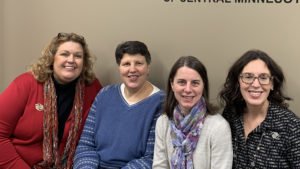 Boys & Girls Clubs of Central Minnesota recognized Geri Bechtold, of St. Joseph, for 30 years of service to youth at the organization. The organization noted, "Geri truly is the heart and soul of the Boys & Girls Clubs of Central Minnesota. She has been with the organization since she started as a volunteer more than 30 years ago. She had planned on going into education, but the Boys & Girls Club grabbed a hold of her heart and never let go."
Bechtold is committed to providing quality programs and services to youth who may not have access to these opportunities without the support of the Boys & Girls Club.
She became the program manager of Boys & Girls Club's Kennedy KIDSTOP program for K-6th graders in the 1990s. Then, she developed a strong Junior Volunteer program to give teens leadership opportunities. Bechtold also launched the St. Joseph Community Evening Outreach Program.
Bechtold was asked to oversee all Boys & Girls Club's K-6 school-based KIDSTOP sites. Although it was hard for her to leave her home site of Kennedy and the many kids she loved, she knew she could make an impact on thousands of youth across the St. Cloud metro area by sharing her best practices with other program managers, training and mentoring other youth development professionals and strengthening relationships with schools.