Minnesota Bridges to Excellence recognizes area clinics for high-quality outcomes
Several CentraCare Clinic sites were recognized by Minnesota Bridges to Excellence for delivering high-quality outcomes for patients with chronic diseases.
CentraCare Health clinic sites in St. Joseph, Big Lake, Sauk Centre and Richmond were recognized for optimal diabetes improvement; St. Joseph, Big Lake, Monticello and Sauk Centre sites were recognized for optimal vascular improvement; and the Becker clinic was recognized for its efforts in depression improvement.
The MNBTE award is presented by the Minnesota Health Action Group, which represents health care consumers, including employers, public purchasers and individual patients.
MNBTE focuses its evaluation on clinic-level performance in order to provide more specific information to consumers about the quality of care provided at individual clinics. This achievement demonstrates commitment to excellence in the care of patients with chronic conditions and to improving patient outcomes, improving the quality of lives and reducing health care costs.
Data is obtained from Minnesota Community Measurement and includes from both private and public sector health care purchasers administered by MNBTE.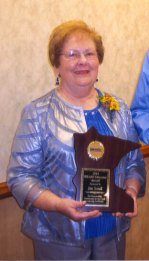 contributed photo
Jan Sorell from Sartell was recently awarded the Educator Award from the Retired Educators Association of Minnesota.
REAM Educator Award presented to Sorell
Jan Sorell from Sartell was presented with the 2104 Educator Award from the Retired Educators Association of Minnesota at its annual State Convention held Sept. 22 at the Best Western Hotel in North Mankato. This award is presented to an outstanding retired educator who is also a valued member of the community and of the retired educator organization.
Sorell received her bachelor's degree in elementary education from the University of Minnesota in 1959, her master's degree in information media from St. Cloud State University in 1973, and her education specialist degree in information media in 1980.
Her teaching career kept her in the St. Cloud area most of the time starting as an elementary teacher for 12 years, then changing to the media department serving as chairperson of the media department at St. Cloud Junior High for six years, director of learning resources at St. Cloud Tech High School for four years, media specialist/computer coordinator at St. Cloud Tech and Apollo high schools for two years, learning resources facilitator for academic achievement for six years, an adjunct faculty position at St. Cloud State University for 14 years and media specialist/department chair at St. Cloud Tech high school for five years. She retired in 1997.
Through the years Sorell was very involved in her professional organizations. For the St. Cloud Area REAM, she served as database manager and worked on the directory which entailed collecting membership data, and designing and printing related materials. She served as registrar for the 2007 and 2008 REAM state conventions and has attended its conventions every year.
In Delta Kappa Gamma, she has held many local offices including president and has chaired state committees. She is an active ember of AAUW holding many offices and serving as the photographer.
In the city of Sartell, Sorell is an active member of the Community Resource Facility Task Force, representing the Sartell Senior Connection organization. In the Senior Connection, she is the chair.
In her church, Trinity Lutheran, she is on the Heritage Committee and serves as lector and photographer among other things.
She was a conferences volunteer for Resources Training and Solutions and was a spelling bee judge. She also volunteers for RSVP.
Sorell has been honored for her work and commitment to education and her community by receiving the ISD #742 Teacher of the Year in 1982, the Delta Kappa Gamma Woman of Achievement in 1999, AAUW Named Gift for Fellowships in 2000, the Benton County Historical Society Women Making History in 2007, and the Sartell Senior Volunteer of the Year in 2014.
Sorell has been described as a very loyal and vibrant member of 10 professional organizations, taking on offices, attending conferences and workshops, and publishing numerous articles in professional journals.