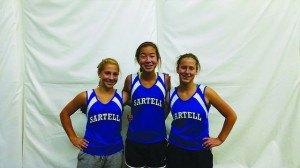 contributed photo
Three Sartell girls (from left to right) Madilyn Fesenmaier, Kiana Schuchard and Katherine Muntifering advanced past the first round of the High School Girls Tennis individual sub-sections 8AA held at Fitness Evolution on Oct. 4. Muntifering and Schuchard advanced as a doubles team and Fesenmaier advanced in singles play. The three were later taken out of contention.
SSEF boasts record attendance at the 13th annual Toast to Autumn
2014 was another record-breaking year for the Sartell-St. Stephen Education Foundation. There were more than 300 guests who attended the 13th annual Toast to Autumn held Oct. 9 at Blackberry Ridge, Sartell. The room was filled with people and energy; evidence of the communities' commitment to Sartell-St. Stephen educational programming and opportunities.Through the generous support of community businesses and individuals, SSEF has been able to raise more than $75,000 so far in 2014. This total is another record amount raised. These funds will support leading-edge programming throughout the district from early childhood to high school. Past grants SSEF has supported include Sabre Splash, Academic Extensions Programs, Elementary Leveled Library Books and Early Childhood Family Story Hour. The Sartell-St. Stephen Education Foundation's mission is to support Leading-Edge Programming for the students of District 748. The foundation has been in existence since 1998. To find out more about the foundation, visit www.ssef.net.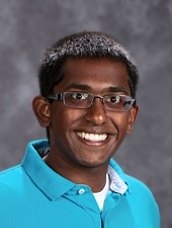 Ramanathan
Gopi Ramanathan, son of Vasugi and Gajendranathan Ramanathan, and a junior at Sartell High School earned a top composite score of 36 on a recent ACT test. Nationally, while the actual number of students earning a composite score of 36 varies from year to year, on average, less than one-tenth of 1 percent of students who take the ACT earn the top score. Among test takers in the high school graduating class of 2014, only 1,407 of nearly 1.85 million students earned a composite score of 36.
The ACT consists of tests in English, mathematics, reading and science. Each test is scored on a scale of 1-36, and a student's composite score is the average of the four test scores. Some students also take ACT's optional Writing Test, but the score for that test is reported separately and is not included within the ACT composite score.
In a letter recognizing this exceptional achievement, ACT CEO Jon Whitmore said, "While test scores are just one of the many criteria most colleges consider when making admission decisions, your exceptional ACT composite score should prove helpful as you pursue your education and career goals."
ACT test scores are accepted by all major U.S. colleges. Exceptional scores of 36 provide colleges with evidence of student readiness for the academic rigors that lie ahead.