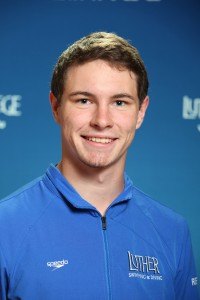 Reitz
Drew Reitz, son of Heidi and Alan Reitz, Sartell and a 2013 graduate of Sartell High School, is a member of the swimming team at Luther College, Decorah, Iowa. Lance Huber begins his 14th year as Luther's head swimming coach. Last year, he led the Norse to a 10th consecutive Iowa Conference championship as well as a third consecutive runner-up finish at the Liberal Arts Championships. Since his arrival, the Norse have posted a dual meet record of 61-23. The Norse will begin the dual meet schedule hosting UW-Whitewater on Saturday, Nov. 1 at 1 p.m. All home swim meets will be video streamed free of charge at http://portal.stretchinternet.com/luther/ on the Luther College Athletics website.
Emily Schimdt, daughter of Paul Schmidt of Sartell and a 2014 Sartell High School graduate, recently completed U.S. Navy basic training at Recruit Training Command, Great Lakes, Ill. During the eight-week program, Navy Seaman Schmidt completed a variety of training which included classroom study and practical instruction on naval customs, first aid, firefighting, water safety and survival, and shipboard and aircraft safety. An emphasis was also placed on physical fitness.
The capstone event of boot camp is "Battle Stations." This exercise gives recruits the skills and confidence they need to succeed in the fleet. "Battle Stations" is designed to galvanize the basic warrior attributes of sacrifice, dedication, teamwork and endurance in each recruit through the practical application of basic Navy skills and the core values of honor, courage and commitment. Its distinctly "Navy" flavor was designed to take into account what it means to be a sailor.