by Cori Hilsgen
news@thenewsleaders.com
Toni Pflueger and her daughters, Sara and Becky, recently traveled to Antigua, Guatemala to attend the high school graduation ceremony of a child their family has sponsored for the past 15 years.
Toni said the trip was emotional because it was the first time they were able to meet Aura Camargo Perez, the student they had sponsored.
Toni and Gary Pflueger and their family became involved with "The Godchild project" now called "Common Hope" in the 1990s after their son, Ben, and Sara, had traveled to Antigua while attending St. John's Prep. Ben visited in 1996 and Sara in 1998.
After Ben and Sara's trips to Guatemala, the Pflueger family decided to sponsor Perez who was 4 years old at the time. They sent monthly correspondence and donations and sent extra donations on holidays. While they exchanged letters for 15 years, Perez often wrote in her letters how she wanted to be successful.
When the Pfluegers received information about Perez's upcoming high school graduation in the mail, Sara wanted her mother to be able to meet Perez and visit Guatemala. Seeking advice and consult from Common Hope staff, and input from her family, she made most of the travel arrangements for the trip.
When they arrived in Antigua, the Pflueger family enjoyed a welcome breakfast with Common Hope staff and other sponsors. They also made a sponsorship visit to Perez's home, where she lives with her mother, Maria, sister Francesca and brother Luis.
"It was so cool," Toni Pflueger said. "It was like having a child and seeing pictures and getting updates, but never being able to touch or hug the child. I couldn't quit hugging her."
Perez and her family did not speak or understand much English, but Common Hope provided the Pfluegers with a social worker and translator when they visited Perez's home and during a picnic lunch before graduation. Perez's father, Mario, joined them for the lunch.
After the graduation, they communicated with the assistance of translators and long-term Common Hope volunteers who spoke fluent Spanish.
Toni said sometimes she and Perez's mother just communicated without a translator because they seemed to understand each other so well. She felt an instant connection to Perez's mother and felt they had a lot in common.
Sara and Becky Pflueger both studied Spanish in high school and were able to communicate and travel around Guatemala fairly well. They helped Toni learn a few basic greetings and common phrases.
The three stayed in Guatemala nine days. They flew into Guatemala City and later shuttled to Antigua. They traveled to Chichicastenago and observed the "Day of the Dead" festivities, explored markets, Mayan ruins and many churches. They also traveled south to Monterrico, a beach town with very hot black sand.
After a visit to Perez's home, they visited with long-term Common Hope volunteers and other staff members, toured a coffee plantation, a chocolate museum and more.
Toni said she appreciated the fact Perez's graduation ceremony also included the students who had finished sixth grade. At the San Rafael Common Hope site, many students are not able to finish sixth grade because they are needed to help work on family farms. Many children at this site need to repeat grades or start school at a later age than what is typical in the United States.
She said about a dozen children graduated from sixth grade at the ceremony.
"It was a very emotional trip," Toni said. "I never thought sponsoring a student for this many years would be such a heartfelt experience once I actually met her."
"It was an eye-opening experience," Becky Pflueger said. "Common Hope is great and does amazing work."
"I was super excited when my family decided to sponsor a child after my high school visit to Guatemala," Sara Pflueger said. "Meeting Aura was amazing. I was very proud of her for reaching this amazing goal in her life."
As Toni traveled to Guatemala, she said she overlooked what their country didn't have compared to what we in the United States do have. She said she enjoyed their culture and was grateful, when she returned home, for the many things she has.
Some thoughts Toni shared about Guatemala included that living quarters and public buildings do not have heat because it doesn't get cold enough to need it, the people are great and work really hard for what they have, there aren't many grocery stores and items needed are purchased in street markets, the streets in Antigua are mostly cobblestone and it stays green year round with many beautiful fruit trees and flowers. She also said she drank some of the best coffee she has every had there.
"Guatemala is a beautiful country," Toni said. "I was only able to see a small part of it and would really like to go back to see more."
According to its website, Common Hope was established in 1986, by Dave and Betty Huebsch. They originally focused their attention on the remote village of Santiago Atitlan, where 40,000 people lived in poverty. When asked how they could best be helped, parents in the village said they wanted their children to get an education so they might have a better future.
A civil war forced them to discontinue efforts in Santiago. Common Hope relocated in 1990 to a safer area, the Antigua valley. The foundation currently also has sites in San Miguel and San Rafael and focuses on helping educate children as well as promoting health care, housing and social-work support for students and their families.
The Pfluegers also visited and toured the school at the San Miguel site, to see what a typical day was like. They were not able to visit the San Rafael site.
Although the Pfluegers have stopped sponsoring Perez, they hope to stay in contact with her. They have decided to sponsor another child, a ninth-grade girl. Toni said around 900 students still need sponsors.
"I think to give a child an opportunity to get an education so they can better themselves, their families and their country is a really good thing," Toni said.
Toni was born in Portland, Oregon. She married Gary Pflueger in 1973 and moved to Minnesota. Besides their three children, they also have three grandchildren.
Toni said she strongly encouraged their children's education. All three graduated from St. John's Prep High School. Ben later joined the Marine Corps in 2001 and served four years of active duty. While in the marines he served two tours in Operation Iraqi Freedom. Sara obtained a bachelor's degree in psychology from the College of St. Benedict and a master's degree in counseling psychology from the Adler School of Professional Psychology in Chicago, and Becky obtained a bachelor's degree from the School of Art Institute in Chicago and also served in the Peace Corps in Ghana, West Africa from May 2010 to October 2013.
Gary Pflueger is the supervisor of the St. John's University Grounds Department and Toni works at the St. Cloud Veteran's Administration Canteen. They also own a hobby farm close to SJU.
For more information about Common Hope visit their website at commonhope.org.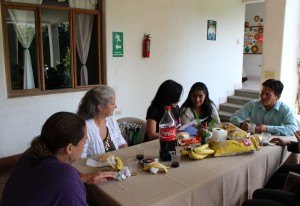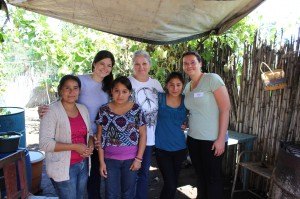 \