by Dennis Dalman
news@thenewsleaders.com
A grand opening will take place for the public at Pinecone Central Park from 4-5:30 p.m. Friday, May 30.
Organizers and volunteers are eager to show off the latest amenities at the park, the result of a massive amount of long-time planning, fundraising and hard work – much of it volunteer work or in-kind donated labor and supplies.
The event will begin at 4 p.m. with socializing. At 4:30 p.m., the program will kick off with a welcome from Sartell Mayor Joe Perske and Pat Edeburn of Granite Equity Partners, who will emcee the program. At 4:45 p.m., Paul Hanson will give an update about the park's progress and the overall vision for the facility. Gordy Meyer will then recognize the many contributors and hand out the honorary baseball bats. Hanson and Meyer, along with Greg Neeser, are founders of the Pinecone Central Park Association. The three were recently named as Sartell Citizens of the Year by the Sartell Area Chamber of Commerce for their hard work in developing the park through a private-public relationship with the City of Sartell.
The city bought the 168 acres of land in 2008 for $3.4 million. It was then the association was formed and an ambitious private fundraising program began to develop the park.
At 5:20 p.m., there will be a ribbon-cutting ceremony at the youth baseball fields, and a tour of the park will follow for those interested.
Pinecone Central Park is located at 1105 Pinecone Central Blvd.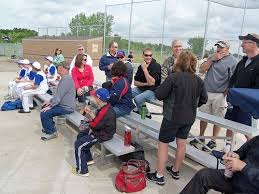 photo by Dennis Dalman
Parents and players chat in the bleachers during a tournament at Pinecone Central Park in the summer of 2013. The tourney took place during a grand opening of the park's multiplex baseball fields. During the Friday, May 30 grand opening, the public will have a chance to see and/or experience even more amenities at the park.