by Dennis Dalman
editor@thenewsleaders.com
Kara Rud loves working with pre-school children so much she changed her career goal from non-profit management to early-childhood education.
Rud, who works with pre-schoolers at Kennedy Community School, is a volunteer reading tutor in the Minnesota Reading Corps program. The Reading Corps is part of AmeriCorps, founded in 1993, a kind of domestic version of the Peace Corps.
Rud is one of 1,600 Reading Corps tutors at Minnesota's 800 school and Head Start sites.
At Kennedy, Rud works with the students of teacher Tracy Eiynck. Their goal is to get pre-K students to read at their grade levels by the time they are in third grade. There are Reading Corps tutors for grades pre-K through 3. There is also a math component for students in grades 4-8.
Rud loves nothing more than to see that "light" go on in a child's head when the learning starts to work.
"When things start to click, I can just see it, whether it's letter sounds or when we're doing rhymes," she said. "They get excited looks on their faces, and then they are so proud of themselves."
Rud tutors about half of the 16 children in the pre-K class. She works one-on-one with just one or two students at a time for five to 10 minutes. She also helps out with other tasks in the classroom. Einyck also serves as Rud's coach. They sit down together and carefully review the data, what works and what does not. Through her daily interactions, not just her tutoring work, the students come to know, like and trust Rud, who knows how to make learning lots of fun through activities that teach letter names, sounds, rhyming, alliteration and other building blocks of learning how to read. She also sings songs with the children and gets to act a "little bit silly."
The children quickly learn to sound out words. They become very excited when they can sound out words like cat, dog, mom and dad.
Rud, who has a bachelor's degree in sociology, has been a Reading Corps tutor for about a year. She loves the job so much she decided to get a master's degree in early-childhood education, online. Originally from Brainerd, she now lives in St. Cloud.
"Children in pre-K are a fun age group," she said. "The kids gain confidence in their skills and then are much better when they reach the upper grade levels. Pre-K kids have such a love of learning."
Rud, like other Reading Corps tutors, highly recommends the program for other people who are considering volunteering. Anyone can become a tutor. Free training is provided.
"If you are curious, just try it," she said. "The training is amazing, and it's all research-based. They give you a script to work from."
To find out more about the Reading Corps program or how to volunteer, go to its website at www.minnesotareadingcorps.org.
Like Rud, Ann DeMotts also likes to encourage volunteers to the program. DeMotts was a Reading Corps tutor for several years, also at Kennedy Community School. She is now recruitment and outreach coordinator for the program in central Minnesota.
DeMotts has seen first-hand the unqualified successes of Reading Corps, and independent research them to be solid successes, right across the spectrum. A study by a research group at the University of Chicago revealed Reading Corps achieved the following results in the 2012-13 school year:
Students with Reading Corps tutors achieved a significantly higher level of literacy than students without such tutors. Students not only learn to read quicker, but they tend to stay on track with other subjects, too.
After a single semester of tutoring, the average kindergarten student with a Reading Corps tutor performed twice as well as non-tutored students.
The average first-grader performed 11 percent better than non-tutored ones and 26 percent better than the expected level for on-track students, and that all happened after just one semester of tutoring.
The impressive boosts in learning occurred across the board, regardless of gender, race, age, economic family background or previous education. It's worked very well with students who are learning English as a second language. The gains were noted in every school where the Reading Corps tutors volunteered.
The success has begun to spread. Other states that have started the program are California, Colorado, Iowa, Massachusetts and North Dakota.
Reading Corps is vital, DeMotts said, because about one third of students are not reading at their expected grade levels, and for math the statistics are even worse.
With just 20 minutes of tutoring five days a week, the results can be readily apparent.
"There are 10 different ways used in tutoring," she said. "One way is to read to the children the way a TV newscaster would read and then repeat it eight times, with the students reading along with you. There are so many ways to make the learning fun."
Tutors come from such a wide variety of backgrounds: high-school graduates, college students and graduates, part-time or full-time students, retired people and empty-nesters. DeMotts herself, who has a degree in business administration and chemistry, has worked as a librarian at the St. Cloud Library. Her husband, John, a retired clinical psychologist, is also a Reading Corps tutor, now in his fourth year at Sartell's Pine Meadow Elementary School.
Now in its 12th year, the Reading Corps reading component began in 2003, with the math component following in 2008.
Another "plus" for Reading Corps volunteers, besides the joy of seeing children learn and excel, is in other kinds of benefits. There is a stipend/allowance given to volunteers and an educational award that can be used for current educational expenses or saved for up to seven years to be used for future educational costs. That award can also be passed on for use by a volunteer's children. Another plus is students who owe post-secondary school loans can have those loans deferred during the time they are Reading Corps volunteers.
"Reading Corps is just phenomenal," DeMotts said. "It really works. And what's so great about the program is anybody can become a tutor. Anybody can do it."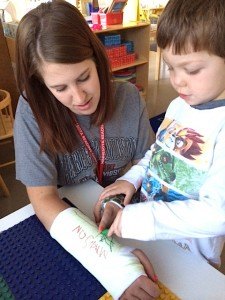 contributed photo
Brayden Klinkner practices letter formation on a pretend cast on the arm of reading tutor Kara Rud. The cast was part of a demonstration from a visiting surgeon at the school who explained to the children how casts work to help heal broken bones.
contributed photo
Kara Rud plays "What is it?" with her pre-school students at Kennedy Community School. The children sing the "What is it?" song and then Kara pulls an object out of a hat in this case the pair of Mickey Mouse sunglasses she is wearing. Then the children discuss the object. Pictured Aubrey Plautz (upper left), Ethan Whitehead (upper right), Luci Novak (middle), Even Robinson (lower left) and Tanner Skaalerud (lower right).