Tani waa kuu muhiim adiga. Fadlan aqri.
Ogeysiis! Importante para Usted, por favor léalo. Please read!
Announcements brought to you by Cultural Bridges of St. Joseph, a committee of Central Minnesota Community Empowerment Organization. We are dedicated to ease your transition into our community.
•••
by Melisa Dick
Hodan Ahmed was featured in this column a year ago. This column will provide a little more about her family's background and her experiences in the last year.
Hodan lives with her parents and four sisters and a brother. The family values education and has made sacrifices to support each other in their goals and challenges. The strong bond they share has helped them through many difficult experiences.
Before she was born, her parents lived in Somalia. When the war broke out, they were in grave danger and had no time to plan. The men were separated from the women and children and sent to different camps. At that time her parents had three children, one of whom was 6 days old. Her mother walked six days while carrying one child on her back and two in her arms. Later they were reunited with their father. Hodan was born in one of the camps; the family came to the United States when she was 14 years old.
Fast forward to today. Hodan has completed two years of college and will have a degree in early childhood education in two more years. Her goal is to set up her own early childhood business. With her exuberant personality, innate wisdom and knowledge of five languages, it is easy to envision her enriching the lives of children and parents.
In the meantime, she is presently working hard to become fluent in English, and working at two jobs in addition to the classes she takes at St. Cloud State University. As a young adult in a Somali family with her knowledge of English, license to drive and ability to earn, she plays a unique role in supporting her family. The love shared within the family unit is evidenced by her commitment to these responsibilities.
During the pandemic, her family is vigilant in regard to measures to avoid transmission of the virus. They are aware of the importance of cleanliness, the wearing of masks and disposal of items they touch.
I believe our city is enriched with a family dedicated to the ideals of education, health, hard work and support of the greater good.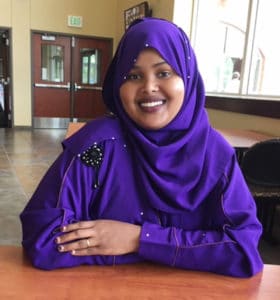 •••
• Senior Dining Meals on Wheels is available for those who are home bound and unable to get out. Diners receive frozen dinners that can be heated up anytime. Contact 320-845-4070. Volunteers are needed for delivery.
• The St. Joseph Food Shelf is open 1-3 p.m. Mondays and Thursdays at the Community Center, 124 First Ave. SE. If you can't go at these times, you can schedule a time to go there. Contact number is 478-213-2700.
• The Catholic Worker Organization is providing shelter and food for persons in the area who are unsheltered. Contact Molly Weyrens at 320-828-4465 or centralmncw@gmail.com Donations requested, P.O. Box 94, St. Joseph, MN 56374.
• Midnimo Grocery and Halal Meat provides free food for Somali residents experiencing food insecurity. Address: 2 21st Ave. S., St. Cloud. Phone: 320-281-5141.
•••
If you have any questions, contact Juliana Howard at 715-791-8976 or Jamal Elmi at 320-310-2351.