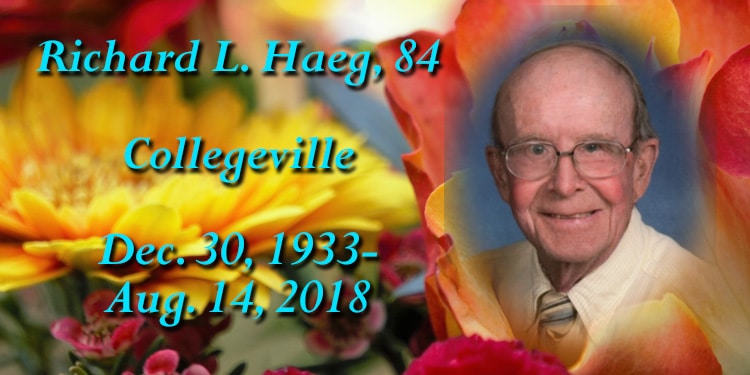 Richard L. Haeg, 84
Collegeville
Dec. 30, 1933-Aug. 14, 2018
A funeral service will be held at 2 p.m. Monday, Aug. 20, 2018 at St. John's Abbey Church in Collegeville for Richard L. Haeg, 84, of Collegeville, who died peacefully at home on Tuesday, Aug. 14. The Revs. Cyril Gorman, OSB, and Roman Paur, OSB, will con-celebrate. Burial will take place in the St. John the Baptist Parish Cemetery, Collegeville.
Family and friends may call from 4-8 p.m. Sunday, Aug. 19 at St. John the Baptist Parish Center in Collegeville and one hour prior to services on Monday at the Abbey Church. Parish prayers will be at 4 p.m. Sunday at the parish center.
Survivors include by his wife of 57 years, Eileen; children, Gregory (Megan McNair) of Collegeville, Daniel of Collegeville, Benedict (Claire) of Sauk Centre, Christopher of Collegeville, Timothy (Kelly) of Collegeville; 11 grandchildren, Graham and Ian Schwartz, Stephanie and Nicholas Haeg, Madeline, Johanna and Thomas Haeg, Cecilia, Carl, Vivian and Francis McNair; and siblings, Howard (Betty) of Columbia Heights, Jerome of Cedar Rapids, Iowa, and Monica (Richard) Weinmann of Blaine.