by Mike Knaak
Excited. Chat with Jeff Ridlehoover for even a few minutes and that's the word you'll hear most often.
Whether the topic is equity, welcoming students back to school after COVID-19 or building a strategic plan, Ridlehoover, who will be the Sartell-St. Stephen school district's superintendent on July 1, exudes excitement.
"I'm an absolute optimist," Ridlehoover said.
Ridlehoover, who currently is the assistant superintendent in the Mounds View school district, was chosen by the school board after candidate interviews concluded March 11. Eighteen people applied for the position, and the board initially interviewed a slate of six candidates before conducting more intensive interviews with three finalists. The board approved his contract on March 15.
Three tasks will be at the top of his to-do list. First, in the next few weeks, the board expects to receive a report on the equity audit, an initiative started after students and parents raised issues of racial, religious and social-economic fairness. Although the issue had been discussed for years, it became most urgent after the killing of George Floyd in Minneapolis last summer. Second, as the COVID-19 pandemic slowly ends, educators are concerned about what experiences students have lost in the past year. Finally, the board delayed updating its strategic plan until a new superintendent was hired.
Ridlehoover said he's "excited to engage and see the results of the audit."
"Everyone is on their own equity journey," he said. "When you think about lived experience, that's what makes everybody who they are. I've been in a number of places with a high level of diversity. I've formed great relationships with families. It's about how we treat other people, help them feel safe and that they belong. It encompasses all types, what every student and family needs. What are their unique gifts and chances for growth? How can we help each family be successful?"
In-person learning is now available to all Sartell-St. Stephen school district students, but some have opted for distance learning as public health concerns continue.
Looking ahead to next fall, Ridlehoover said "when we welcome kids back not to overwhelm them with testing. Those things will be fine. We need to welcome our kids back as human beings first. Put our arms around them. Make them feel comfortable. Start with loving them. We need to take care of them from the social and emotional perspective. There's more to it than tests and homework. Build the foundation first."
When working with the board on a strategic plan, he stressed not only setting a long-term vision but also setting checkpoints along the way and being ready to update and adapt. He cited COVID-19 as a situation that requires "agility" to make adjustments.
During two interviews, board members covered a variety of topics including leadership, communication and educational philosophy including personalized learning.
He said introducing that approach begins with professional development for teachers and then crafting learning experiences that are meaningful to students that might include small groups or individual experiences.
Ridlehoover "has done a strategic plan that looks like what we want, has done equity work and put that plan into place," said board member Matt Moehrle. "He has seen the work we need to do over the next few years. He could navigate us through what we are going to face."
Ridlehoover has been assistant superintendent in the Mounds View school district, which serves almost 12,000 students with two high schools, since 2017.
Ridlehoover earned a Doctor of Education degree from Hamline University. He earned his Master of Arts degree in education from the University of St. Thomas and a Bachelor of Science degree in chemistry from the University of Minnesota. In addition to serving as assistant superintendent, Ridlehoover is an adjunct professor at Hamline University. He has held principal positions in Mounds View, Wayzata and Anoka-Hennepin school districts. Earlier he taught chemistry at Champlin Park High School. He started his career as a science teacher in Lakeville.
Ridlehoover will replace current superintendent Jeff Schwiebert, who announced in December that he plans to retire on June 30 after serving the district for seven years. Ridlehoover's three-year contract starts at $185,000 per year.
In the next three months, Ridlehoover said as time allows, he plans to "visit and listen." He needs to close out his current job but also wants to become more familiar with the Sartell-St. Stephen district.
He said there are high expectations for students in Sartell-St. Stephen schools and there's also "a high level of community involvement and support. I'm used to that," Ridlehoover said.
"I want to hit the ground running," he said. "I can't wait to get started."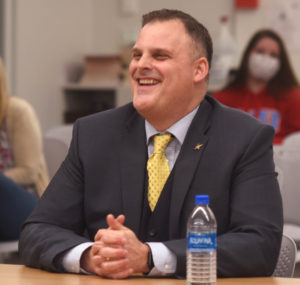 photo by Mike Knaak
Jeff Ridlehoover answered questions from the Sartell-St. Stephen school board on March 8.