by Dennis Dalman
editor@thenewsleaders.com
A first novel penned by a Sartell woman is getting quite the buzz, and its author, Milissa Nelson has been out and about, greeting her reading public and signing autographed copies of her book.
On Sept. 28, Nelson signed copies during the Millstream Arts Festival in downtown St. Joseph.
Nelson will also meet the public and sign more books at Barnes and Noble in St. Cloud from 1-3 p.m. Saturday, Oct. 18.
Nelson's Seasons of Raina was chosen as a "Top Choice" by LitPick, a website dedicated to novels for preteens and teenagers. The site includes reviews of such books by a "global community of students."
The novel was also recently selected for the Read Local program in Marshall.
On amazon.com, the book received a four and one-half star rating.
Nelson, who grew up in Barrett, Minn. and in Colorado, is a graduate of the University of Colorado with a degree in music education. She is currently a stay-at-home mom but has just signed up to be a substitute music teacher for the Sartell-St. Stephen School District. She and her husband, Chris Stark, have two daughters – Megan, a sixth-grader at Sartell Middle School, and Cora, a third-grader at Oak Ridge Elementary School.
A new book, which will continue the story of Raina, is expected to be published next year.
Seasons of Raina is a family-friendly novel, set in the 1970s, about a young teenaged girl overwhelmed by stressful changes: moving to a new state (Minnesota), starting a new school and living with an aunt, uncle and their eight children. An only child, her parents had made arrangements for her to stay with a rural Minnesota family because they had run out of resources and wanted their daughter's life to be easier after she had experienced merciless bullying in Denver. In her new whirlwind life, she begins to take part in athletics, music, all the while getting to know her sibling-like cousins. The novel evokes the four seasons of her life-changing experiences. Raina's timid personality and her loner status are challenged at every turn, but with sheer pluck and determination she learns to overcome obstacles and establish an inner strength.
The following is a review by a reader on LitPick:
"If there were a book that never ended, this would be the book I would choose," wrote a young reader in Jackson, Mo. "I really liked Raina and her relationship to her cousins. Some of them were younger and some of the cousins were older. Since I am the oldest of six children I liked that Raina was in such a large family."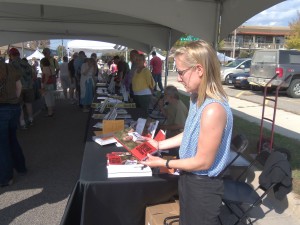 photo by Dennis Dalman
Milissa Nelson of Sartell holds a copy of her award-winning novel, Seasons of Raina, in the book tent at the Millstream Arts Festival in St. Joseph Sept. 28. Nelson, who grew up in Barrett, Minn. and in Colorado, wrote the book with a young readership in mind. It's the story of a shy young girl having to make many stressful adjustments in life.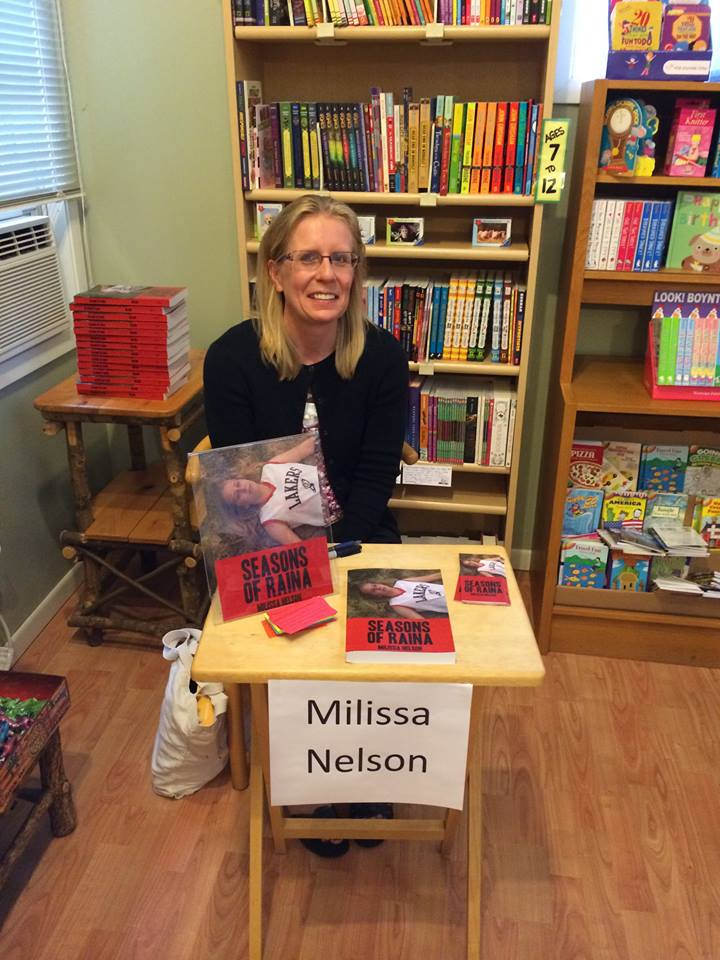 contributed photo
Sartell author Milissa Nelson visited a children's library in Dorset, Minn. to share a reading of her novel, Seasons of Raina, with children.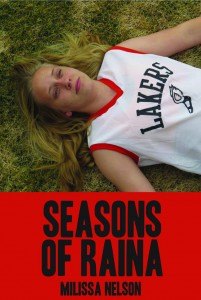 contributed photo
This is the cover of Milissa Nelson's novel about the trials and tribulations of a timid girl growing up in a large family of relatives in rural Minnesota.