Amanda Kern, daughter of Mary Kay and Chuck Kern, St. Joseph, recently graduated with a doctor of osteopathic medicine degree and a master's degree in bioethics from Kansas City (Mo.) University of Medicine and Biosciences. Kern graduated from Apollo High School and earned her undergraduate degree from St. Catherine University, St. Paul. She will complete her postdoctoral training in family medicine at United Hospital in St. Paul.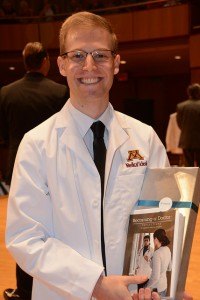 Local first-year medical student receives white coat
Michael Symanietz from Sartell, along with 60 other students, received his white coat Aug. 23 from the University of Minnesota-Duluth campus, marking his entry into medical school. The ceremony signified the responsibilities and obligations of the physicians who wear the white coat and the importance of embracing compassion and character along with knowledge of science and medicine.  He is the grandson of Ray and Jean Weyer of St. Joseph.