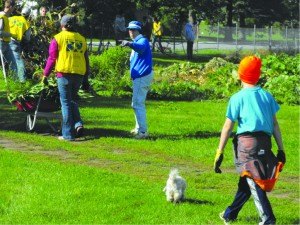 contributed photo
Sister Elizabeth Theis (center) directs work in the garden with members of the Church of Jesus Christ of Latter-day Saints from all over Central Minnesota.
Latter-Day Saints members return favor to St. Ben's Monastery
Religion can be used to justify acts of inhumanity or acts of kindness and love. When they are acts of inhumanity, they become newsworthy. When they are acts of love, they are quiet and unnoticed by many. The latter is the story of the Sisters of St. Benedict's Monastery in St. Joseph.
Sixty-seven years ago during WWII, a group of nuns left Minnesota for Ogden, Utah. They established a hospital to serve the huge influxes of workers who flooded into the area to help with the war effort. Their philosophy, "Caring for the sick as if they were Christ in person."[i]
When local leaders of the Church of Jesus Christ of Latter-day Saints, nicknamed Mormons, learned of this great service to many of their faith, they decided to give a little back. This Saturday about 230 volunteers from the St. Cloud Stake came to St. Benedict's to serve the nuns.
Local congregations in a geographical area are known as a Stake in the Mormon Church. The St. Cloud Stake asked these congregations to send volunteers to help in what is called a "Day of Service." People came from as far away as Alexandria and Elk River to serve the nuns.
Cheri Moore, a Stake leader, led the volunteer efforts. She worked with Sister Jean Schwartz, the volunteer coordinator for the nuns at St. Benedict's. Old and young came together to clean, paint, spruce up the cemetery, and also helped to prepare the garden for winter.
A surplus of volunteers was sent on assignments for the City of Waite Park. City officials directed the volunteers as they cleared garbage from parks and drainage ponds and removed weeds from the ice rink and children's baseball diamond. Some of the youth grumbled when the weeds seemed to never end, but the adults encouraged them on. Tasks that would have taken days of work were finished in a few hours.
Diana Rogers, from Elbow Lake, was asked as she pulled weeds, why she came so far. "Serving is a very important thing to do," she said with a smile. That sentiment was seen all Saturday morning as the volunteers worked hard. At 1 pm, the work ended, lunch was served, children giggled and tales of the day's labor were shared.
The Sisters of St. Benedict have officially come home from their mission in Ogden, Utah. They served with distinction, helping to create Ogden Regional Medical Center. They quietly served for 67 years, practicing what can only be called true religion, the unconditional love for others.
Saturday, the Sisters got a little unconditional love back from the Church of Jesus Christ of Latter-day Saints who wanted to extend a hand of gratitude. They did it quietly, unnoticed by most. Maybe it is not newsworthy, but it is worth knowing about.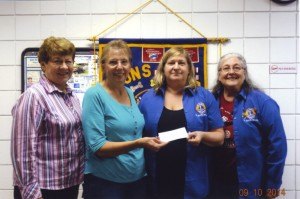 contributed photo
Kathi Schmidt, (second from right) president of the St. Joseph Y2K Lions, along with Y2K Lions members Ginger Meier (left) and Kay Lemke (right), present Jan Boecker with a $1,300 check for Chad's Memorial Wing at the Place of Hope in memory of Chad Boecker, son of Ralph and Jan Boecker. Chad's Memorial Wing is the third floor of the Place of Hope's residential center and will be used to assure those struggling with overwhelming life problems have a safe, secure and inviting place to rebuild, repair and restore their lives.