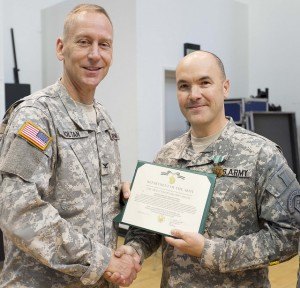 contributed photo
Col. Timothy Holtan, left, commander and conductor of the U.S. Army Field Band presents Master Sgt. Michael Klima, musician, the Army commendation medal Aug. 12 during a ceremony at Fort George G. Meade, Md.Army Michael Klima, a special bandsperson with the U.S. Army Field Band, has been decorated with the Army Commendation Medal.
The medal is awarded to individuals who, while serving in any capacity with the Army, have distinguished themselves by acts of heroism, meritorious achievement or meritorious service.
He is a 1989 graduate of Sartell High School; he earned a bachelor's degree in 1994 from St. Cloud State University.
Local first-year medical student receives white coat
Michael Symanietz from Sartell, all with 60 other students, received his white coat Aug. 23 from the University of Minnesota-Duluth campus, marking his entry into medical school. The ceremony signified the responsibilities and obligations of the physicians who wear the white coat and the importance of embracing compassion and character along with knowledge of science and medicine.