by Cori Hilsgen
news@thenewsleaders.com
St. John's Prep students recently participated in an interactive all-campus scavenger hunt.
Students worked in their advising groups, or small groups of same grade-level students who they are grouped together with during their years at SJP. They used their iPads to photograph and take videos as they worked to solve campus-wide puzzles in about an hour. Once students solved a puzzle group, they received a clue that led them to a destination on campus.
The event was organized by physics and astronomy teacher Charles Miller and middle-school teacher Dan Stark, who began organizing the event in 2008. Miller is also the Knowledge Bowl coach and Stark is the boys' soccer coach.
"It's a lot of work to set up, but we really enjoy watching the results and have received many positive comments from teachers and students," Miller said.
Each year they plan a series of three events called the Smartest Advising Competition. In August, they have a scavenger hunt; around November, they have a written round where advising groups answer questions covering things students could study at SJP and in March the school watches the top three groups compete Knowledge-Bowl style, answering questions to determine the champion.
There is a different theme each year and the solution to the five puzzles focuses on that theme. This year's theme was Orphan Annie's Secret Society, a reference to the movie A Christmas Story and an old radio show where listeners could decode secret messages. Each advising group was given a secret decoder wheel they used to decrypt messages. The messages and various puzzles steered the students to the five puzzle destinations.
The puzzles instructed the groups of students what to photograph and how to do it. Miller gave an example of one puzzle this year, made up of state flags. Figuring out which flags they were, revealed the first letter of two words, AUSTRIA ROCK. The Austria Rock is painted each year by students heading to Austria to study with their sister school and is a familiar landmark to SJP students. Advising groups decoded the message, headed to the rock and took a photo there with a German textbook.
For another puzzle, students solved a Sodoku. The six circled numbers in the solved Sodoku led students to a room on campus and spelled out the encoded message ACE. Students then took photos with an ACE card in that room.
St. Joseph resident Justin Terhaar's 11th-grade group, advised by English teacher Robert Erickson, won the first stage of the scavenger hunt. Terhaar's group won last year's overall competition, as sophomores.
"Things like the scavenger hunt are just plain fun," Terhaar said. "They make advising something more than just a time for updates and stuff. I look forward to the Smartest Advising most of the year, and especially the scavenger hunt. Running around campus, frantically shouting to each other, it's so chaotic and fun, a great change of pace from regular school. It's important to have things to enjoy."
Avon resident Nick Haeg was also on the winning junior team.
"The scavenger hunt is a fun way of exploring our campus," Haeg said. "It forces us to use just the right amount of haste, intuition and knowledge. Our group's success primarily hinged on our ability to effectively use our resources and multi-task."
"Our advising group worked well together," Erickson said. "The scavenger hunt called on teams to cooperate, manage time, problem solve and think quickly. All 10 students pulled together and had a fun and successful hunt. Most groups could probably solve the problems, but solving them in the allotted time proved to be quite a challenge. I'm glad our group, as the defending advising champion, rose to the challenge. We had fun using our creativity and logic while getting some exercise by running around the campus. We are thankful that for the first time, our entire group was present for the event. In the past two years, some students had to leave because of sporting events."
The scavenger hunt was modeled after the annual event held at Michigan Institute of Technology. Its intent is to help develop problem-solving skills and teamwork.
Director of Communications and Events Jill Pauly said the students and staff really enjoy the challenge of the scavenger hunt.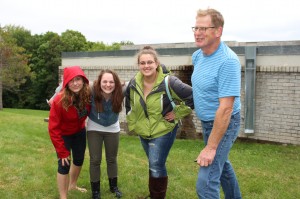 contributed photo
St. John's Prep seniors (left to right) Madeline Antoine, Nycole Wenner, Becky O'Neill and their teacher Patrick Dwyer participate in a recent all-campus scavenger hunt.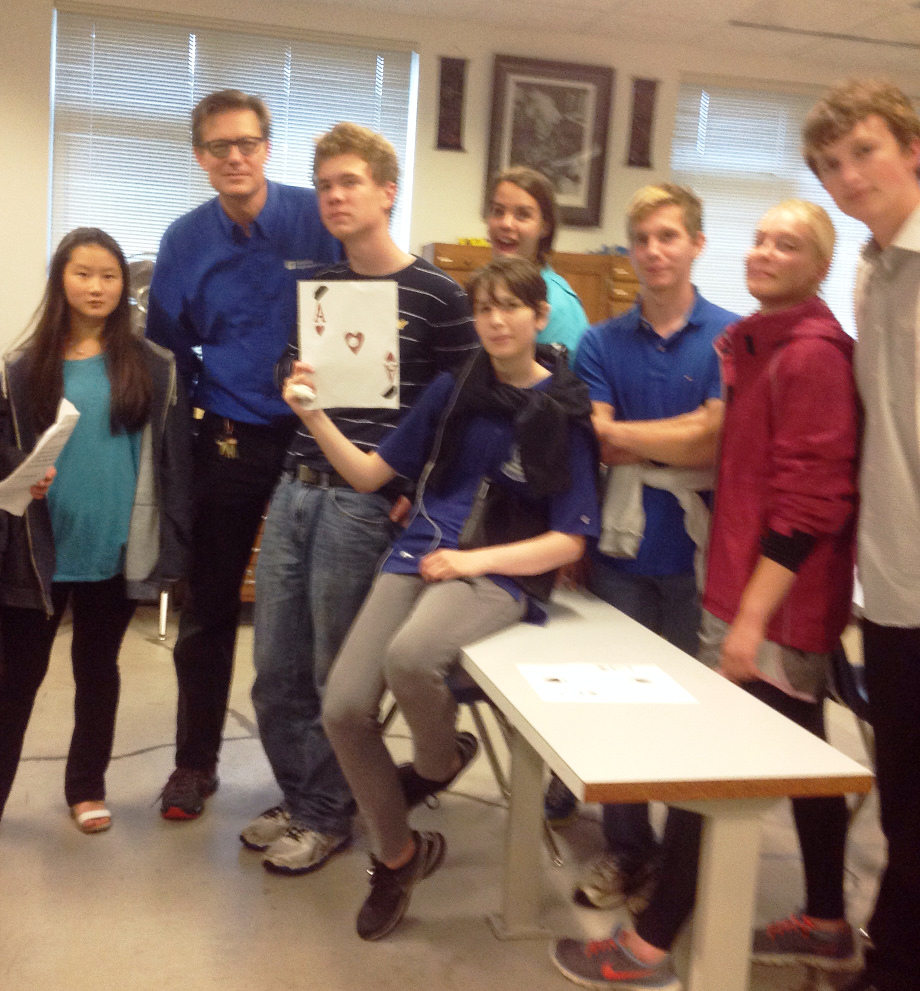 contributed photo
Robert Erickson's group of junior advisees won the SJP scavenger hunt, the first part of a three-part competition. This group also won last year's overall competition as sophomores. Pictured are (left to right) Ekim Luo, Shiyan, China; advisor Robert Erickson, Avon; Justin Terhaar, St. Joseph; Callista Sorteberg, Avon; Anna Bender (back), St. Cloud; Nick Haeg, Avon; Lila Furcht, Waite Park; and Max Hennen, Cold Spring.