by Dennis Dalman
editor@thenewsleaders.com
Tucked away cozily in the small rooms of a refurbished old barn is a book-lovers' paradise where readers could happily read to their hearts' content almost to the end of time.
It's called "Sojourner's Station," a book shop lovingly devised by Jerry and Jeanette Hansen of Sartell. Other than diehard bibliophiles, not too many people know about the shop, which is on the Hansens' country-home property in southeast Sartell.
Sojourner's Station specializes in handsome editions of quality used books. They include classic novels; volumes of short stories, poetry and essays; non-fiction works; inspirational books and sets of encyclopedias. Many of the volumes the Hansens purchased at estate sales. The books are expensive rarities, but they are all superb examples of the printing and binding arts – some leather-bound, many in slip covers, all of them in excellent condition.
When bookworms enter Sojourner's Station, they feel as if they died and got all the way to heaven. Room after room, shelf upon shelf, contain treasure troves of great books gussied up in stunning bindings.
On one shelf that great whale of a novel, Moby Dick, sits next to that magnificent delusional fool of La Mancha, Don Quixote. On a shelf across the room are a dozen volumes of works by that spellbinding bard of the American South, William Faulkner. The works of gloomy Russian master novelist Fyodor Dostoevsky hold a place of honor on several shelves, he being one of Jerry Hansen's favorite writers. On the top of a tidy stack of books on the floor is a Willa Cather novel and a facsimile of the first edition of Gone with the Wind. Not far away, on a display shelf for art objects, is a tiny volume of poems by that "Belle of Amherst," the reclusive fearlessly brilliant American poet Emily Dickinson. And on an entire shelf, reserved mostly just for a very special writer, are the works of Wendell Berry, American novelist, short story writer, essayist, agrarian philosopher, pacifist and environmental advocate, who is Hansen's all-time favorite author. Berry, now 80, always a man close to the good earth, makes his home on his generational family farm in Kentucky.
Surrounded as they are by excellent books, is it any wonder the Hansens do not own a television set? They'd rather read and connect with the world in healthier ways. They are, for example, firm believers in sustainability in all things: energy, food production and lifestyle habits. They both have a great reverence for the best of the past, but they are decidedly not nostalgic pastoralists. Rather, they are realists who believe the world should be modeled on wise sustainable lifestyles.
Born in Luxemburg, Minn., Jerry was raised on a farm east of Sauk Rapids. His father was born on a farm near Rockville, and his mother was born on a farm near Albany. Wife Jeanette was raised on a farm near Wadena. From the Hansens' house is a cobblestone path leading to what they call the "Hermitage," a place of quiet retreat and meditation. The large rocks embedded in the path were all chosen from those four places of family heritage: the farms near Sauk Rapids, Rockville, Albany and Wadena. It is just one of the many ways the Hansens show their spiritual and hands-on reverence for the best of the past.
Jerry and Jeanette met many years ago while both were working at the St. Cloud Hospital – he in the physical rehabilitation unit and she as an orderly, a registered nurse in physical therapy. They were both 40 years old when they married.
The Hansens bought their rural place, so near to Sartell, 34 years ago.
During the Vietnam Era, Jerry served in the Airborne Division in Vietnam during 1967-68. Recently, a one-act play he wrote about a Vietnam veteran, entitled "The Wedding of Tomorrow and Sorrow," was performed at Pioneer Place in St. Cloud, to laudatory reviews.
Jerry has also served in the Peace Corps in Tanzania, where he learned to speak Swahili.
There is no end to the interesting stories visitors can hear when visiting the Hansens and their extraordinary used-book shop. Many explain a visit there as a stop at an inner sanctum, far from the hectic world – a quiet retreat where tranquility, peace and the wisdom of the ages preside in those rooms lined with the thoughts and feelings of the greatest minds and hearts of the ages.
Visits to Sojourner's Station are by appointment only. To make an appointment, call the Hansens at 320-255-0295.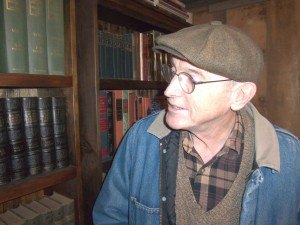 photo by Dennis Dalman
Jerry Hansen glances at some of the many books lined up neatly on his long rows of bookshelves.
photo by Dennis Dalman
Jerry Hansen (left) shares comments with Steve Hennes and Kris Bahl during a visit to Sojourner's Station, Hansen's used-book shop in Sartell.
photo by Dennis Dalman
Standing outside the century-old barn that houses his used-book shop, Jerry Hansen greets recent visitors.