by Dennis Dalman
Sartell's Watab Park will boast a state-of-the-art splash pad this coming summer now the City Council has approved a final design and cost for the amenity.
The council voted to approve a design by the Vortex company, an international leader in water-related projects for recreation. The splash pad will cost $173,500, slightly under a previously estimated cost of $175,000.
Vortex, headquartered in Pointe-Claire, Quebec (Canada), has created more than 8,000 water-related amenities in 50 countries, including many varieties of splash pads.
The size of the figure-8-shaped pad will be 2,204 square feet. The water spray functions will cover about half that area, with the rest of the pad being splash-free but with other dry play functions featured.
At the splash pad, water will spew, mist or flow from many whimsical cartoon-like structures. For examples, some of Vortex splash pads feature structures such as a fish, a sailboat, a foaming geyser, a sea serpent and water bug.
The pad is designed for people of all ages to enjoy, including people who are physically challenged. With water conservation in mind, its water is recirculated via a purification system.
Construction of the pad will be done this spring. It will take the place of a wading pool that had provided water fun to children for several decades in Watab Park. That pool and its pool house were recently demolished because they had become too expensive to maintain. A new poolhouse will be built in conjunction with the splash pad, just two of the new features and improvements in the ambitious Watab Park renewal project. Other amenities will include resurfacing of the tennis courts and a playground.
The costs will be borne by a grant of $141,000 from the Minnesota Department of Natural Resources, as well as money from the Sartell Parks Fund and some revenue from the city's share of the regional half-cent sales tax.
The council's next item for action on the Watab Park renewal project is to consider price quotes at a future council meeting. The city will also maintain a budgeted amount for finishing touches at the park, such as sidewalk connections, for example.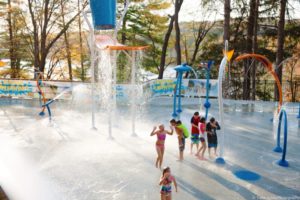 photo courtesy of Vortex
This splash pad, designed by the Vortex company, is located at the Odetah camping resort at Bozrah, Connecticut.