by Cori Hilsgen
news@thenewsleaders.com
Local resident Maxx Grell recently brought back the "Gold" to his father for Father's Day after scoring multiple medals in the 2014 Special Olympics USA games held June 13-21 in New Jersey.
Grell's mother, Sharon, said he was one of eight swimmers selected from the state of Minnesota to participate in the games and that each state brought at least four swimmers to participate.
Pam Bergerson, vice president of sports and education for Special Olympics Minnesota, said Grell was one of eight chosen from 225 athletes who participated at the state event and earned a gold medal in a qualifying event to attend nationals. Minnesota had athletes that competed in seven different sports. A total of 86 people, including athletes, coaches and others, travelled from Minnesota to this year's games where more than 3,500 athletes participated.
Grell participated in swimming and received a gold medal in the 100-yard freestyle, a gold in the 25-yard backstroke, a bronze in the 50-yard freestyle and a bronze in the 4-by-100 medley relay.
To qualify for the national games, Grell had to first win a gold medal last year in his sport of swimming. He next completed the application paperwork, got three letters of recommendation and was interviewed.
Grell trained by swimming with his Special Olympics Minnesota team and his nationals team. He also participated in a mock meet with the Albany High School girls swim team and practiced at the YMCA.
The competitions took place during Father's Day. When Grell's mother asked him what he was going to get his father for Father's Day, he said "a gold medal." And he did.
Grell, who was born eight weeks premature, is the son of Jon and Sharon Grell. He has two sisters, Betty, 17, and Bridget, 20. Bridget is a coach for Special Olympics and was one of the coaches who worked with Grell to help him train for the games. The family all attended the national events.
Grell became involved with Special Olympics when his coach, Eric Thede, thought he and his friends were great at floor hockey and started a poly hockey team. Poly hockey was the first Special Olympics Minnesota sport that Grell participated in.
Grell, 25, enjoys sports. He played adapted athletics in high school at Apollo High School and is a graduated student manager who still helps whenever he can. He also works at St. Cloud State University Garvey Commons dining services.
Grell currently plays poly hockey, softball, track, swimming and bowling for Special Olympics Minnesota. He has won many gold, silver and bronze medals for Special Olympics Minnesota. Grell also enjoys fishing and has won ribbons at the Benton County Fair for his art and baking.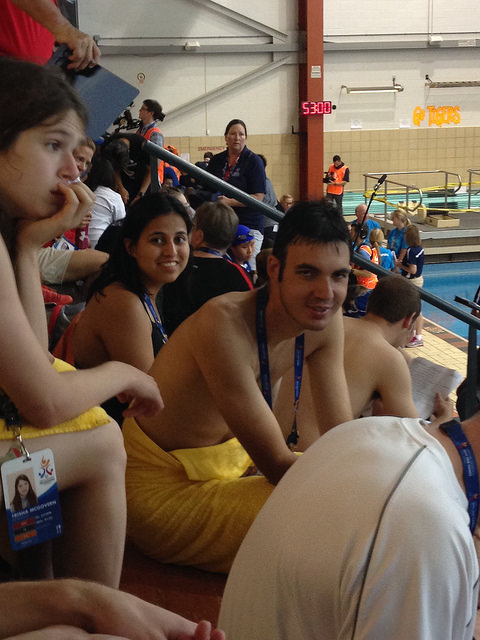 contributed photo
Maxx Grell is shown at the National Special Olympics games held June 13-21 in New Jersey. He was one of eight swimmers chosen from Minnesota to compete at the national events.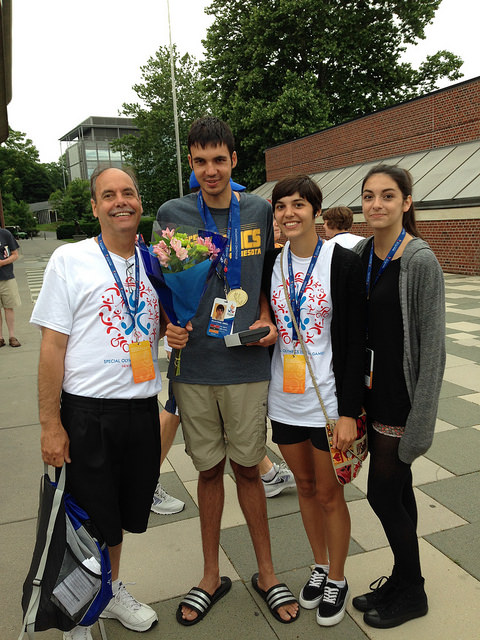 contributed photo
The Grell family (left to right Jon, Maxx, Bridget and Betty) attended the national competition to watch Maxx compete.