by Dennis Dalman
news@thenewsleaders.com
The Pinecone Central Park Dog Park is now staked off, but it still needs funds and fencing.
Last week, four volunteers pounded stakes into the perimeter that will – hopefully soon – be a fence. Organizers hope to have two separate fenced-off areas in the nearly five-acre dog park – one area for large dogs, the other for smaller breeds.
Those who pounded in stakes are DogPAC members Mark Dockery (lead fundraiser), Kim George (chair), her husband Rod Neuenschwander and their son, Mason.
DogPAC is a group of volunteers formed last year to help raise funds for the project. The group's goal is $150,000, which would cover several phases of the project, including the fencing, a water line to the park, a shade shelter and a rules sign. The City of Sartell donated the land for the dog park and $10,000 in park-dedication funds to DogPAC, money that remains in its account to cover fencing costs, which are estimated to be $60,000.
The dog park will be developed at the north end of the park between the park's large parking lot and Pinecone Road. It will be a place where dogs and owners can walk, romp and roam. The DogPAC group also plans to hold special events, such as training sessions, special speakers and equipment demonstrations by dog-related businesses.
"We hope people donate whatever they can afford, even if it's a small amount," said DogPAC chair Kim George. "Soon, we're going to do some mass mailings to dog owners in Sartell to try to raise some more funds."
There is a core group of eight people in DogPAC, and they hope to get more dog enthusiasts and dog owners involved with their effort. One way to get involved is to visit the DogPAC Facebook page and hit the "Like" button.
DogPAC is partnering with the Little Falls-based Initiative Foundation in its fundraising efforts for the park.
There are many options for donating money to the dog-park project:
Checks can be made payable to "Initiative Foundation-Sartell DogPAC" and mailed to Initiative Foundation, 405 First St. SE, Little Falls, Minn. 56345.
Donations can be brought to one of four official drop-off sites in Sartell, with a note clearly stating the funds are for the Sartell DogPAC-Dog Park Fund. The donation sites are: Sartell City Hall, 125 Pinecone Road; Knotty Paws, 809 10th Ave. N.; Advanced Care Pet Hospital, 911 Scout Drive; and Pine Cone Pet Hospital, 234 Pinecone Road S.
Donations can be made by debit or credit card by calling, writing or emailing card information (card number and expiration date) and the intended donation amount to the Initiative Foundation. Contact it at 877-632-9255 or email to: info@ifound.org.
Donations can also be online at: http://givemn.razoo.com/story/Sartell-Dogpac.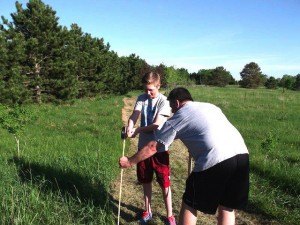 contributed photo
Rod Neuenschwander and his son, Mason, pound in stakes to demarcate the perimeter of a dog park in Pinecone Central Park. By knowing the exact fence-perimeter, the group of volunteers, dubbed DogPAC, will be able to be specific when advertising for bids for fencing.