by Cori Hilsgen
news@thenewsleaders.com
The 16th annual "Stuck in Motion" bike race for United Cerebral Palsy of Central Minnesota held on Jan. 25 met its fundraising goal of $23,000.
Ninety people, divided into teams of 10, participated in the event from 10 a.m. to 3 p.m. at the gym at St. Cloud Whitney Senior Center.
"It was a wild and crazy event and I believe everyone had a great time," said executive director Judy Moening.
Many participants dressed in costumes such as super heroes, formal wear and others.
Participants used stationary bicycles loaned by Fitness Evolution for the event. Riders collected pledges to race. Each racer biked for 20 minutes. Ten-minute breaks between participants were allowed to help the next racer get set up. The racers biked to music played by Lindsey Graske, a volunteer DJ. Graske is a student at the College of St. Benedict.
The event was emceed by motivational speaker Aaron Cross who is a three-time paralympian in the sport of archery.
Many participants raced for family and friends. Some racers required assistance to get the pedals in motion.
Lisa Seifert, daughter of Al and Kathy Seifert of St. Joseph, has participated in this event for the last six years. Seifert, 47, has cerebral palsy.
"It's a fun event and people should come out and try it," Seifert said.
Seifert biked on the "SPOT Rocks" team. She required some assistance and got it from other team members. Physical therapist Sue Peck of SPOT Rehab was the head of this team that collected $2,060 in pledges.
Kathy Seifert is a former UCP board member. She served on the board for 33 years and chaired some of the fundraisers. She said it was always a goal of UCP to have board members from all areas of occupations. Seifert is a nurse who worked for 43 years in the Family Birthing Center at the St. Cloud Hospital. She now has health conditions which no longer allow her to serve on the board.
Kathy said the bike race has been a wonderful fundraiser.
"It gets family and other friends of people who have children with cerebral palsy involved," she said.
Sartell residents Cathy Thompson, Tracy Arduser and Kristie Hassebrock brought a team to the bike race. All three work together in Pediatric Rehabilitation for the St. Cloud Hospital, which is located at the CentraCare Health Plaza. Thompson is a physical-therapist assistant. She is the UCP secretary and is also a board member.
Thompson has participated in the bike race since 2006 and Pediatric Rehabilitation has had a team at the race for the past 11 years. She said adolescent children who have seen their parents riding at the event have also recently begun riding.
"Stuck in Motion is always a fun and upbeat fundraiser," Thompson said. "It's a friendly competition as we see who can get the most miles. There is always great music and great prizes. I highly believe in UCP's mission as I work directly with young patients who are diagnosed with cerebral palsy. I feel my involvement with UCP assists my patients (to) achieve a higher quality of life."
Arduser is a physical therapist and started with UCP in 1998 as a board member and served until 2010 at which time she transitioned to the advisory board. She participated in her first bike race in 1999 and has participated in the race at some level every year since 1998.
Hassebrock is a speech and language pathologist.
"I have been biking for Stuck in Motion off and on for the past 10 years," Hassebrock said. "I started biking in order to help raise awareness of and support for the needs of individuals with cerebral palsy. UCP's events are near and dear to me since my nephew was diagnosed with cerebral palsy shortly after birth. As a result, my nephew has a lot of needs for various equipment as well as support for his family. Since he and his family have relocated to Minnesota, UCP has been helpful in getting the things he and my patients need for good quality of life."
Moening said participants used various means to collect pledges, including online internet access. The "Never Say Never" team held a weekly meat raffle in January to raise money for their team. Others brought in company donations to match individual donations.
Seifert's friend, Marianne Arnzen, brought in a company match donation from Macy's. Arnzen met the Seifert family when she was a college student at the College of St. Benedict. She taught swimming lessons to Lisa and her sister, Sara, and has stayed in touch with the family.
Medals and prizes were awarded and recognition was given to teams and individuals. Some of them included the following: Team "Tacy" raised the most pledges – $7,335, and team "Tinker Belles" raised the second most pledges – $3,896.
Brianna Mastey pedaled 8.18 miles for the most female miles pedaled, Cliff Robbins pedaled 10.91 miles for the most male miles pedaled and Aaron D'Allesandro pedaled the most miles in the 15-and-under age group with 8.16 miles.
The spirit award went to team "Tacy," which had a prom theme and dressed in formals and tuxedos and pedaled in their formal attire.
Emily Salzbrun was the person with the highest pledges of $3,726, and Keenan Nichols had the second most pledges of $1,760.
The "Tinker Belles" team pedaled the most miles – 78.92.
Moening said money collected stays in the area and is used for local programs and services.
Thirty-four volunteers helped with the event. Proceeds help serve people with cerebral palsy and other disabilities in central Minnesota through financial grants for specialized equipment, assistive technology demonstrations and equipment loans, recycled quality computers to persons with disabilities, Super Strikers bowling for children with special needs and others.
Cerebral palsy is a central motor dysfunction caused by damage to the motor-control centers of the developing brain. It can occur during pregnancy, childbirth or after birth up to age 3. It  affects muscle tone, posture and movement. UCP of Central Minnesota has been serving families in the area for 60 years.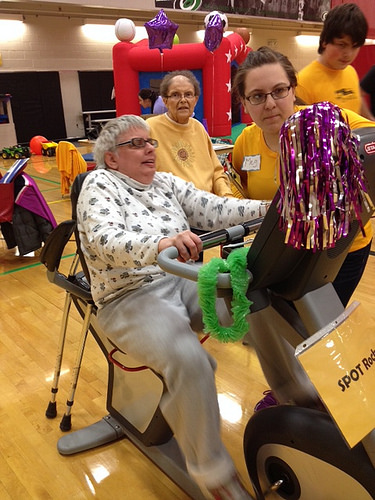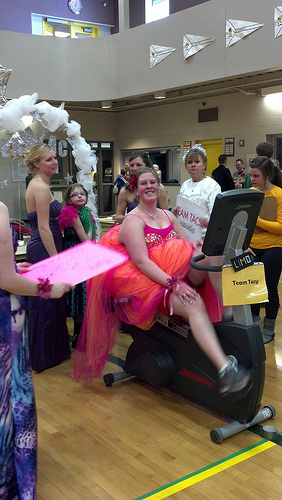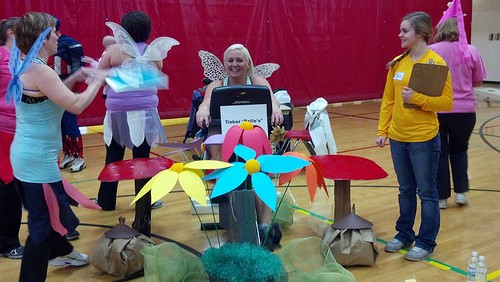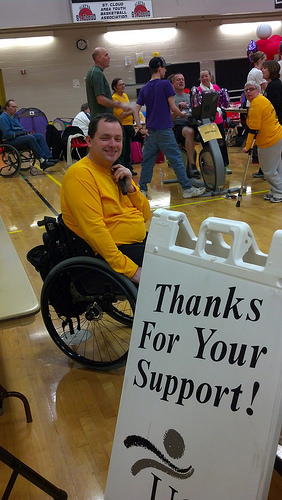 contributed photo
Motivational speaker Aaron Cross emceed the UCP "Stuck in Motion" bike race held on Jan. 25, which raised $23,000.