by Cori Hilsgen
news@thnewsleaders.com
St. John's Prep junior Joey Stock enjoys studying history. He particularly likes to study about World War II and that time in history.
"I love World War II because there was so much that occurred and so much that happened around the world," Stock said.
Stock is the 17-year-old son of Lori and Thomas Stock. He has one brother, Jacob, 19.
Fun Facts about Stock :
Favorite subject: History
Activities he is involved with:
Stock enjoys playing sports, especially baseball, basketball and soccer.
Favorite leisure activity: Playing sports
Favorite movie: Benchwarmers
"It's really funny," Stock said.
Favorite music: Country
"Because it has meaning," he said.
Favorite song: Flyover States by Jason Alden
Favorite book he has read: To Kill a Mockingbird
"I love this book because of the trial, and it's really well written," Stock said.
Favorite restaurant: Famous Dave's
"Because I love barbecue," he said
Favorite food: Anything barbecued
Favorite thing he likes to help other people do: Pitch baseballs or shoot hoops with a basketball
One of the hardest obstacles he has had to overcome in the school environment: So far, Stock has been fortunate and doesn't feel he has had to overcome any obstacles.
What he likes best about his school:
"That it's different," he said. "There are students from over 10 different countries. Not a lot of other high school students get to have that privilege and opportunity."
How have teachers influenced him:
"All of my teachers have influenced me by saying it's OK to be myself," Stock said.
One of the biggest challenges students face today: Bullying. Stock said he doesn't recall seeing bullying anywhere, but believes many students struggle with it.
Favorite technology device: iPhone and iPad
Does he like using technology at school?
"I like it a lot because you don't have to carry around all of your books," he said.
What he wants to do when he graduates: Attend college
"I absolutely want to go to college," Stock said. "I plan to study business and marketing."
Something he would change if he could: Poverty and war
He would try to decrease poverty by raising money to spend for clean water and food for people. To avoid wars and conflicts, Stock would try to encourage people to practice loving each other instead of fighting.
What he would like to be doing five years from now: "I'm interested in possibly joining the U.S. Army because I want to do something that really matters." Otherwise, Stock wants to be selling marketing or become a business manager.
If he won a large amount of money, would he keep it or donate it? Both
"I would keep some, but I would also donate some too," Stock said. "I would donate a lot of it to the St. John's Prep School and also the university."
Something people might not know about him: He loves to snowmobile
"I snowmobile with my family and some friends," he said. "We snowmobile all over the county. I have a 1998 Polaris Indy Classic 500. I call it "Classy."
The thing he likes best about St. Joseph:
"That it is small town USA, and that everybody knows everybody," Stock said.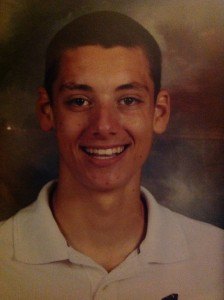 contributed photo
St. John's Prep junior Joey Stock enjoys studying history, especially the World War II period.