by Dennis Dalman
editor@thenewsleaders.com
Let the fun begin. The 24th annual Sartell SummerFest 2015 will kick off at 6 p.m. Friday, June 12 with a running event at Sartell Middle School, including the Mayor's 5k Race and a Kiddie 1k fun run.
The next day, Saturday, at 10 a.m. the SummerFest Grand Parade will begin at 10 a.m. and wend its way along Riverside Avenue to its finish at Sartell Middle School.
From 11 a.m.-3 p.m., there will be the Libertyville Family Fun Fest, also at the middle-school grounds, with music, children's activities, food sales and more.
From 5 p.m. to midnight Saturday, Great River Bowl's Partner's Pub will feature a street dance with music by Whiskey Tango starting at 5:30 p.m. and DiamondBack starting at 8:30 p.m. There will be a break in the music at 10 p.m. for the fireworks, which will be shot off into the skies just south of Great River Bowl.
On Sunday, June 14, Blackberry Golf Club will offer 18 holes of golf, with cart, for only $19.07, a monetary amount reflecting the year Sartell was founded, 1907. To register for the golf event, call 320-257-4653.
Organizers are hoping rain doesn't wash out the SummerFest Parade the way it did last year. Only twice in the 24-year history of SummerFest has the parade had to be cancelled because of wet, miserable weather – last year and in 1994. Last year, the fireworks show also had to be cancelled because of rain.
As of press time Wednesday, June 10, the local forecast called for a 20-percent chance of rain Friday, June 12 and a 40-percent chance of rain on the evening of Saturday, June 13.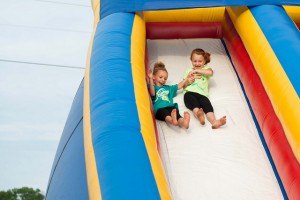 photo by Jack Hellie
Abby Kuklok (left) and McKenzie Lunquist, both of Sartell, careen down an inflatable slide at the Libertyville event June 13 in Pinecone Regional Park. The event was part of Sartell SummerFest 2014.