For the sixth year, "Take a Day Off on the Mississippi River" will offer outdoor family Saturday, Aug. 2 fun at Stearns County's Mississippi River Park.
The park is located just off CR 1 about seven miles north of Sartell.
Each year, the free event combines recreational and educational activities as people learn to enjoy one of the area's greatest assets – the Mighty Mississippi. There will be canoeing, fishing, paddle sports, geo-catching, archery, live reptiles, children's games, demonstrations and make-and-take craft projects for children.
No experience is necessary, equipment is provided and all activities are free.
There will be two special canoe-paddling trips down five miles on the river. Participants must be registered and ready to load the bus at 10:30 a.m. and at 2:15 p.m. Space is limited.
At 1 p.m., Pine Creek Kennels and the Department of Natural Resources will give a presentation with the aquatic invasive species dog named Redgie.
"We are excited to offer this outdoor family event," said Katie Winkelman, co-coordinator of Take a Day Off. "We have received wonderful support from a variety of groups and companies. It's humbling to see the amount of financial and volunteer support for this event. Without partners and sponsors, this free event would not be available to the community."
The event is supported by the sportsman's clubs of Sauk Rapids, Rice and St. Stephen, Xcel Energy, Stearns County's chapter of Pheasants Forever, Mathew Hall Lumber and many other area clubs and businesses.
Organizers of the event are Stearns County Soil and Water Conservation District, Stearns County Parks Department, the Department of Natural Resources and Tips Outdoors.
For more about the event, go to www.stearnscountyswcd.net.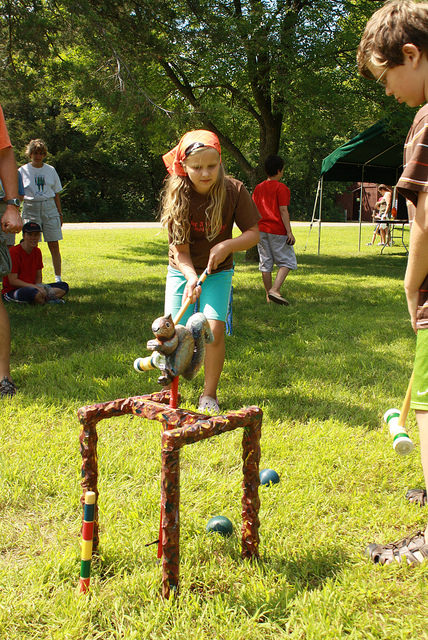 contributed photo
Children enjoy a game of croquet at last summer's "Take a Day Off on the Mississippi." The free family fun day will again take place Saturday, Aug. 2 at Mississippi River Park seven miles north of Sartell.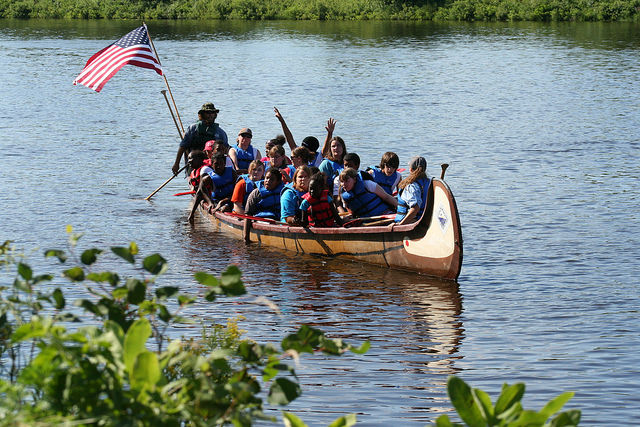 contributed photo
A canoe loaded with children approaches the landing at Mississippi River Park north of Sartell during a previous "Take a Day Off on the Mississippi" family-fun day. The next "Day Off" is set for Saturday, Aug. 2 at the same park.