by Dennis Dalman
editor@thenewsleaders.com
The Good Lord provides . . .
That's practically the motto of "The Quilters," a group of mainly women from Rice, Sauk Rapids and Sartell who have been quilting for years and years.
Just about every time the women are short of something – materials, thread, yarn, whatever – they pray and not long after, voila!, what they need suddenly appears from somewhere, as if by magic.
One day, years ago, quilter Ardelle Amundson of Sartell wanted a sewing machine so badly she and a group of women prayed for one. Strangely enough, she went home that day and found a sewing machine on her lawn. A neighbor, who knew nothing about the prayer, figured she'd want it as she knew Amundson liked sewing. The machine was older but in mint condition; it had never been used. Needless to say, Amundson was happily stunned by the gift from out of the blue.
The same thing happens when they pray for quilting supplies. All of a sudden, again from out of the blue, a big pile of material or scraps will materialize as if by magic from this person or that group or some company.
The Quilters (there are about 40 all together) meet at three places: a room in Good Shepherd of the Pines Lutheran Church in Rice; at the community room in GrandView Estates in Sartell; and at Good Shepherd Community in Sauk Rapids. In addition, many quilting members work from their homes.
The quilters never sell their quilts. They say since they are doing God's work, selling is absolutely out of the question. Instead, they give the quilts (as well as hot-pad holders, blankets, sheets, pillowcases and washcloths) to places where human need is paramount, such as Journey Home, Anna Marie's, the Salvation Army, Catholic Charities, the Dream Center, Recovery Plus, Foley Food Shelf, Place of Hope, the Veterans Administration Stand Down, the St. Cloud Children's Home, Bags of Love, good-cause benefit events and many other venues.
By July 1 of this year, the women have created more than 1,000 quilts. They expect to finish 2,000 by the time the year ends. Last year, they made 1,900.
The quilters also make little dresses for children in an orphanage in Haiti and, also for Haiti, shopping handbags with handles people, mainly women, can use to carry supplies when they go to distribution centers to pick up minimal-survival items like rice.
The Quilters group began 13 years ago. One Sunday morning, during a church discussion session, Ardelle Amundson asked, "Why does God have you doing what you do?"
One woman in her 80s replied, "There is nothing I can do."
On the way home, Ardelle said to her husband, Jim, she'd like to pursue that noting some people think they cannot do anything. She remembered Jim used to teach in Ogilvie, and she went there to have people show her the many things they could do. She met quilters and realized so many people – even the little old lady – could probably do quilting. And, sure enough, later when she suggested it the "lady who could do nothing" quickly morphed into a good quilter.
Among the people who meet most regularly for quilting sessions in Rice are the Amundsons (Jim is an expert cutter who cuts most of the quilting blocks and other materials); Nancy Anderson, a former Rice mayor; Evelyn Kirchner of Rice, who is an expert long-time machine sewer; and Cherie Ablen of Rice, who loves nothing more than scavenging for quilting materials at garage sales and elsewhere. What all quilting members do are three things: cut material, sew tops, tie and pin quilts. No experience is necessary, and volunteers are always welcome. For more information, call Ardelle at 320-656-5858 or Cherie at 320-393-4164.
The Quilters are always looking (and praying for) the following items: fabric (yardage and pieces), yarn, thread, blankets, comforters, bedspreads, drapes, towels, polyester batting, sheets and pillowcases, blue jeans and mattress pads.
If anybody wants to donate such items, please call the two phone numbers listed in the preceding paragraph.
SARTELL COUPLE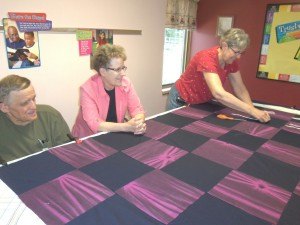 SAUK RAPIDS-RICE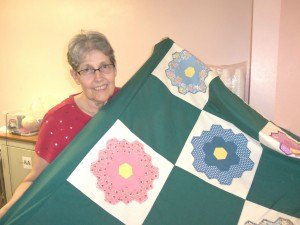 WHERE IS THIS LADY FROM????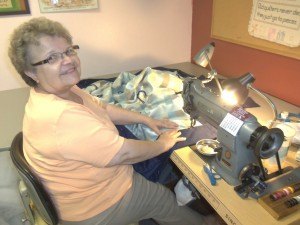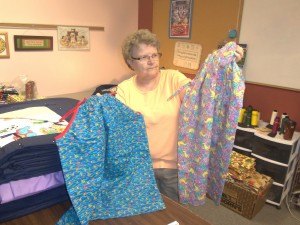 ALL TOWNS