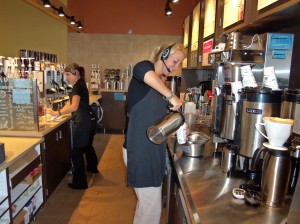 by Dennis Dalman
news@thenewsleaders.com
Shoppers at Coborn's Super Store in Sartell will now have the chance to sit down and enjoy a cup or two of Caribou Coffee.
A Caribou Coffee shop and drive-through opened at the store Oct. 19. There is also a community-meeting room in the facility. The coffee shop is located where Coborn's video store used to be, in the northwest corner of the large store.
Coborn's is an independent licensee of Caribou Coffee and already has a Caribou Coffee facility in its Sauk Rapids store. Both stores also sell ground and single-serve Caribou-brand coffee on their grocery shelves.
Both places recently announced their seasonal autumn menus, which include a new pumpkin chai, new breakfast sandwiches and a reformulated pumpkin syrup made from real pumpkin.
"Coborn's and Caribous are both local Minnesota companies that are focused on freshness, service and convenience," said Chris Coborn, Coborn's president and CEO. "Caribou's high-quality products, local personality and commitment to Rainforest Alliance certification makes Caribou a great match for our customers on the go."
Rainforest Alliance certification means the coffee beans of Caribou Coffee are grown with the used of enlightened environmental, social and economic sustainability methods.
Alfredo Martell, Caribou's vice president of marketing and product management, said he thinks customers will enjoy "the cozy and comfortable environments we offer our fans."
Coborn's is an employee-owned grocery retailer with stores in Minnesota, North Dakota, South Dakota, Iowa, Illinois and Wisconsin. It also owns stores under the names of Cash Wise Foods, Economart, Food Pride and Save-A-Lot. Coborn's also offers online shopping and home delivery. All of the stores, together, employ 6,800 workers.
Caribou Coffee was founded in 1992. It is the second larges company-operated premium coffeehouse in the United States. As of July 1, 2012, there were 596 Caribou Coffee places in 22 states, including 188 franchises, such as the Coborn's ones.
The new Coborn's Coffee in the Sartell Super Store will be open seven days a week from 6 a.m.-9 p.m. The coffeehouse employs 14 full-time workers.