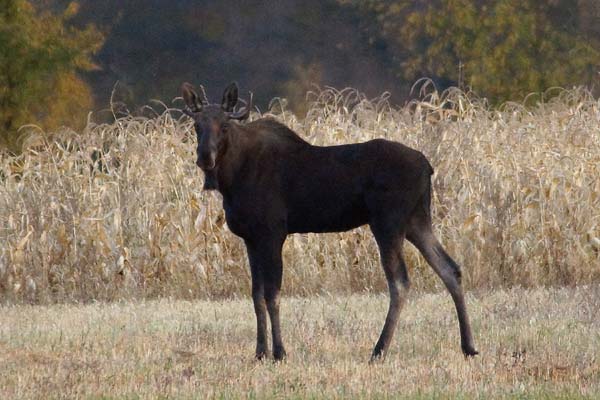 by Dennis Dalman
news@thenewsleaders.com
When Don Smoley came running up at noon to Randy Asseln's house – as if the house was on fire – Asseln knew something was up.
"Quick! Grab your camera," Smoley shouted. "You've got to get over to Larry Omann's farm a mile west of town. There's a moose in his cornfield."
It didn't take long for Asseln, a passionate photographer, to grab his camera gear.
Just minutes later, at the cornfield, sure enough, there was a moose, but all Asseln could see is a pair of ears sticking up from the corn tops. There were a few other people at the cornfield on a "moose watch." Smoley made moose-call sounds, but the creature didn't heed them. The animal, perhaps spooked, would not come out of the field.
That early afternoon, Smoley and Asseln decided to leave and come back about an hour before sundown. Then they waited about a half an hour, Smoley on one end of the field, Asseln on the other. Smoley was again making moose calls. The moose would stop and look at the two men and then keep on walking slow as could be, toward the east. Finally, the moose had reached the western edge of the field. He then proceeded to walk across the road. At that point, Asseln, camera ready, was standing 50 feet from the animal ready to "shoot" it, using his zoom lens. He kept snapping his camera and "captured" the moose in a series of photos.
The moose was plodding slowly to the east, toward St. Stephen. A full moon had risen, and it looked as if the moose was heading straight for that moonrise. The two men watched the moose with rapt attention as it walked all the way to the tamarack swamp at the edge of town. Then, the moose walked right into that swamp and disappeared from sight.
Asseln and Smoley weren't the only ones to see that moose. He had been sighted in the Sauk Centre area a week before. There were also sightings in Melrose and Freeport, Asseln noted.
Asseln knows it was the same moose because it's a rather peculiar-looking animal. On its left side, he sports just one 18-inch antler and on the right side there is just an antler stub of only four or five inches.
"He looks a little goofy," Asseln said. "That's why we call him the 'one-horned wandering moose.'"
Asseln figures the bull moose weighs about 600-800 pounds.
Asseln works as an industrial electronic technician for "USA Today" newspaper operations in Maple Grove. He also has an at-home business focused on his art photography and his own specialized method of printing large photos onto canvas.
To see more of his photographic art, go to www.randyasseln.com.