[media-credit id=5 align="alignnone" width="300″]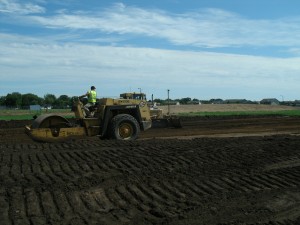 [/media-credit]
Staff from Landwehr Construction of St. Cloud flatten dirt July 23 for roads and paths for Mill Stream Village, a senior housing development.
[media-credit id=5 align="alignnone" width="300″]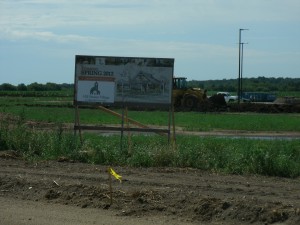 [/media-credit]
A sign marks the spot of the future Mill Stream Village, a senior housing development, that will be located near the east side of the College of St. Benedict campus.
[media-credit id=5 align="alignnone" width="225″]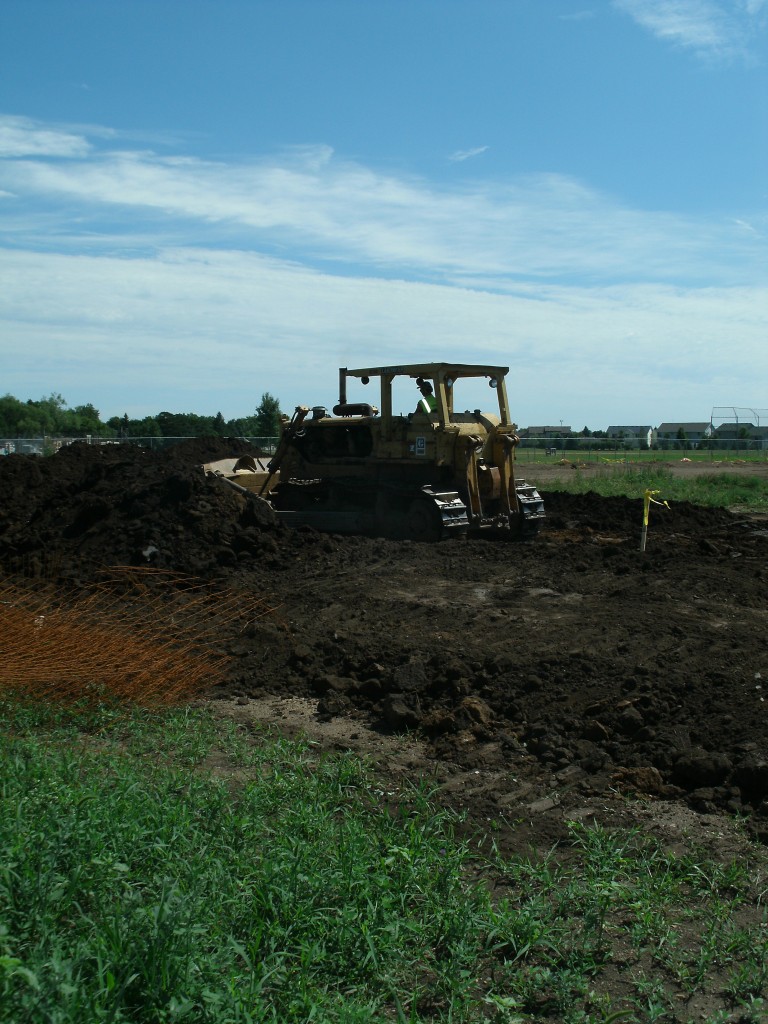 [/media-credit]
A construction worker moves dirt July 23 as part of site preparation for the future Mill Stream Village. The first home or cottage is set to go up the first week of September.
by TaLeiza Calloway
A housing development once stalled by a struggling economy is moving forward.
Once called the Village at CSB, the housing designed for those aged 55 and older, is now referred to as Mill Stream Village. Collegeville Companies celebrated with a ground-breaking ceremony this month marking the beginning of something developers view as a visual result of about 10 years of planning.
Millstream Village already has two families lined up to move in. Their homes are the first two to be built, Colleen Hollinger Petters said. They are still building the roster of village residents.
The first phase of construction started July 23. Work includes creating the roads, sidewalks, planting trees, utilities and paths for Millstream Village. It's a four-week process.
"It's pretty exciting," said Peter Gillitzer, business developer for Collegeville Companies.
In the first construction phase, the goal is to build 24 units: 8 rental homes and 16 owner-occupied omes with the capacity for an additional 24. The total cost of that phase is about $4.5 million, Gillitzer said.
The cost of the clustered cottages for rent is $3500 per month; the owner-occupied homes will range from $172,000 to $300, 000 plus, Gillitzer said.
Hollinger Petters shared his excitement about the project. In 2009, it gained some momentum but with an economic downturn in the real estate market, homeowners weren't willing to sell their homes for a reduced price. Enter a three-year delay.
"What's really exciting is the people that have stuck with this project have really been supporters along the way," Hollinger Petters said. "They saw the vision right from the beginning. They know that having housing for older people next to a college campus will provide this dynamism for the residents, the campus and the monastery."
By late September the grass will come in with the first house going up the first week of September. One home will be about 900 square feet and the second is 1800 square feet.
One thing that has changed in the home-care industry is there are more services available that allow people to live longer in their homes. During the 3-year delay this has something developers monitored and incorporated into their design.
Eight of the 24 units or cottages will have a connected porch area that will have a care provider in an office. Care staff will be on site for 24-hours with residents also benefiting from individualized care. Collegeville Companies has partnered with Home and Stead, a home-care business in St. Cloud to provide those services.
Some of the environmentally friendly features of the project include a heating system that uses the temperature difference between inside the house and the outside to heat the house. Another green feature is shallow footings—often used in Scandinavia—where less concrete is used in the foundation of the home, Gillitzer said.
Other amenities include barrier-free access, low slopes for driveways, three-foot doors, and roll-in tubs. While it is designed for older adults, with community connectedness in mind.
"You're gonna just notice a really cool, high-quality neighborhood," he said. "That's the vision.
We worked hard to make sure it didn't look like a senior complex."
While dirt is moving, all are eagerly anticipating to see the first house be built.
"It sort of seems surreal," Hollinger Petters said of the start of construction. "Not unbelievable because we've been certainly working towards it. It does seem surreal because it has been so many years."