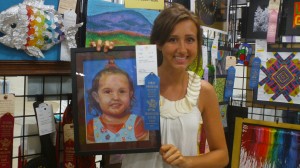 by Dennis Dalman
news@thenewsleaders.com
Claire Miller of Sartell won tops at the Minnesota State Fair for a painting of her little sister, Elise — a twin who was born 16 seconds after Claire.
Claire, the daughter of Todd and Deb Miller, is 14. She will be a ninth-grader this school year at Cathedral High School.
At the State Fair, Miller won a first-place blue ribbon in the watercolor-pastel category for her portrait of Elise. It took her about two weeks to complete the portrait, which she based on a photograph of her sister when she was a toddler.
Miller has loved art for as long as she can remember.
Her parents not only encouraged her talent — they nurtured it by putting their daughter into contact with some of the finest artists in Minnesota, such as those who belong to the Minnesota Artists Guild, the professionals who work at the Elk River Studio and local artists, like John Heckman of St. Cloud. Miller took lessons from some of those artists and had the chance to work right alongside them while they were creating.
All of the adult artists praised Miller's work. They coaxed her into entering the State Fair competition, but they also cautioned her that even some of the finest artists don't always win awards.
That is why Miller and her parents were so stunned when they saw the Internet announcement that she was among the top winners. Her father noticed her name as a winner.
"We just couldn't believe it," he said. "It was incredible, especially after hearing how hard it is for artists to win awards. Some go their whole lives and don't win anything."
Todd called his daughter to tell her the good news but couldn't reach her. A bit later, she called him about something else, and he told her she was a blue-ribbon winner.
"I screamed out loud with joy and jumped up and down," she said. "I was really excited and happy. So was my twin sister, Elise, who is the subject of the portrait. She congratulated me. That picture was only my second watercolor pastel. That's a form of art where I first put down the basic areas with watercolor, then I use pastels over that for more details."
Miller also loves working with charcoal and oil paint. She has created paintings and drawings of many birds and lots of landscapes. Her portrait of her sister was brand-new artistic territory for her, and she plans to do more portraits.
Besides art, she also loves tennis and enjoys playing the piano.
When asked what she wants to be in the future, Miller didn't hesitate, not even for a split second.
"An artist," she said.