Dean Holtz of St. Joseph has earned an outstanding career accomplishment: 3.5 million safe miles driven. Holtz drives for Walmart and is based out of the Menomonie, Wis. office. His service territory covers Minnesota, North Dakota, South Dakota, Iowa, Wisconsin and Illinois.
Holtz's outstanding achievement shows his dedication to working and driving safe over a long and distinguished career.
Thanks, Dean, for everything you do to support your community and for being a great example of professionalism for other drivers to follow.
Brian Gronlund
EHS Operations Manager-Transportation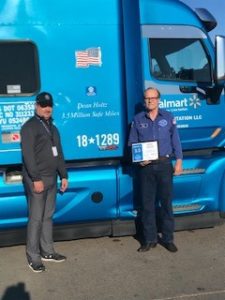 *********
Have you experienced someone doing a random act of kindness? Do you know someone who is a tireless volunteer? Is there an employee who is exceptionally helpful, courteous and exceeds expectations? We'd love to know about it and share it on our website and Facebook page.
In 250 words or less, let us know who this person is, if they live or work in Sartell, St. Joseph or St. Stephen, and why they should be recognized. Include a photo. (Get their permission, too. Some people aren't comfortable with the attention, and we want to respect that.)
Send submissions to editor@thenewsleaders.com
Put Citizen Spotlight in the subject line.