Kinzie Johnson, a 5th grader in Sartell, started a toy drive in 2018 when she was just 9 years old.
Ever since she began to walk, she would walk the aisles of toy stores looking for the perfect toy to donate to a child at Christmas. These holiday shopping trips became a tradition for her family. When Kinzie was 9 years old, riding in the car with her mom and brothers looking for a place to drop off their toys, it occurred to her. Why didn't she just start her own toy drive?
So, she did just that.
Kinzie came up with a name, made a logo, put together some boxes and reached out to friends and family for help.
Her first toy drive was a great success! She collected approximately 500 toys. In the second year, approximately 8,000 toys were collected.
Kinzie thought about canceling the toy drive in 2020 due to COVID-19. That quickly changed when past donors began reaching out wondering about her plans. She decided that the virus had already taken away so much from everyone–kids especially–that she was not going to let it stop her mission!
Kinzie's goal was to collect, "More than last year." Well, she crushed it! It was impossible to count all the toys, but her family estimates $45,000 in toys and gifts were received for kids.
The generosity of people was overwhelming.
Follow Kinzie on Facebook: Christmas For Kids – Kinzie's Local Toy Drive.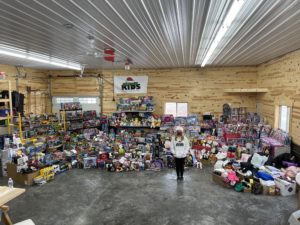 *********
Have you experienced someone doing a random act of kindness? Do you know someone who is a tireless volunteer? Is there an employee who is exceptionally helpful, courteous and exceeds expectations? We'd love to know about it and share it on our website and Facebook page.
In 250 words or less, let us know who this person is, if they live or work in Sartell, St. Joseph or St. Stephen, and why they should be recognized. Include a photo. (Get their permission, too. Some people aren't comfortable with the attention, and we want to respect that.)
Send submissions to editor@thenewsleaders.com
Put Citizen Spotlight in the subject line.