by Dennis Dalman
news@thenewsleaders.com
YMCA Lifeguards certified with American Red Cross training are now keeping watch at Sartell's two wading pools.
"We're happy to partner with Sartell," said Jamie Darling, the YMCA's associate aquatics director. "We're promoting family fun with healthy living. We want to see families be safe and have a good time at the pools and when they're taking swimming lessons at the YMCA."
Sartell's two wading pools are at Watab Park, which is just off Riverside Avenue across from Veterans Park; and the Celebration pool, located in the Celebration neighborhood addition at 19th Avenue N. and 11th Street S. Both pools have free admittance. They are open from noon to 7 p.m. seven days a week. The pools opened May 31 and will remain open until Labor Day, Sept. 1.
Many Sartell residents are unaware of the pool at Celebration, Darling noted. When that neighborhood was built, the developer constructed a wading pool there and then donated it for citywide use.
Each pool will be staffed by one YMCA lifeguard, one guard in the early afternoon hours and one in late afternoon to evening. A staff of six or seven lifeguards will rotate throughout the season.
Rules for pool use are posted at each facility. Children 10 and under must be accompanied by an adult; children 4 and under must have an adult in the water with them. Parents or guardians are encouraged to bring swimming diapers for the youngest children. If adults don't bring them, lifeguards will have diapers available for purchase, $1 per diaper.
People are also encouraged to bring lawn chairs, blankets and picnic lunches.
The pools will be shut down if there is the sound of thunder or if the weather appears to look threatening, with rain imminent. If there is a sudden storm, children will accompany the lifeguard into a shelter – the public bathrooms.
The staffing of the pools with YMCA lifeguards is the result of an agreement between the YMCA and the Sartell City Council, which agreed earlier this year to pay $16,685 for the service.
Lifeguards plan to encourage adults to bring their children for swimming lessons and water-safety classes at the YMCA. The lessons are available for children as young as six months old. Children ages 3-5 can start learning to swim in a small therapy pool. Children ages 6-13 can take their lessons in the large pool.
For more information, call the YMCA at 320-253-2664 or visit its website at scymca@org.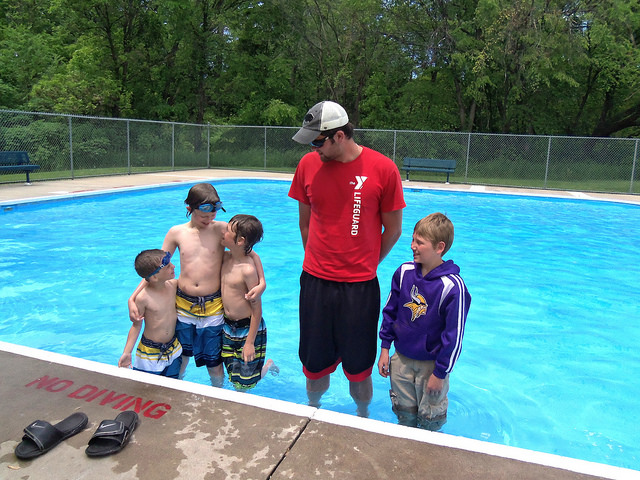 photo by Dennis Dalman
YMCA lifeguard Tim Immelman of Sartell stands with pool visitors June 9 at the wading pool in Watab Park. Left to right are brothers Jacob, Anthony and Caleb Larson of Sauk Rapids and Oliver Eikmeier of Sartell. The grandmother of the Larson boys, Barbara Mills of St. Cloud, said she was babysitting her grandsons and decided they would enjoy some cool fun at the Watab pool.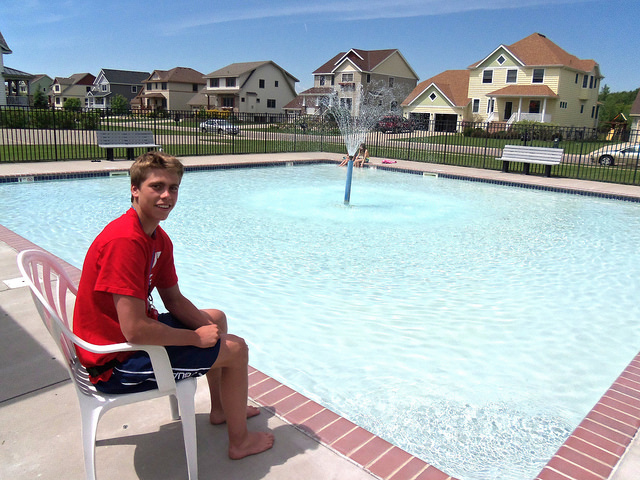 photo by Dennis Dalman
Aaron Peckskamp of Sauk Rapids is one of the YMCA lifeguards who tends the Celebration Pool in northwest Sartell. The public pool is often sparsely occupied because many Sartell residents are not aware the pool is for public use. It's located at the intersection of 19th Avenue N. and 11th Street N. by the Celebration neighborhood development. Years ago, the developer built the pool and then donated it to the City of Sartell.