April 28, 1989
St. Joseph Meat Market pushes forward in spite of fire setback
by Janelle Von Pinnon
The remodeling of the St. Joseph Meat Market slaughterhouse was finished Friday. All day Saturday, the boys had cleaned up the construction dust and debris for the federal inspection scheduled on Monday morning.
Then fire struck at 7:15 a.m. Sunday, March 19 (Palm Sunday morning) gutting the entire front of the building and leaving only the cement block walls of the back slaughter room and a few pieces of charred equipment.
"It was a 'let-down feeling,'" said Al Pfannenstein, co-owner with his wife Virginia of the St. Joseph Meat Market. "I couldn't believe it, because everything was supposed to be new and redone. And we'd reroofed that building last fall because of hail damage last spring.
"It was a real sickening feeling going into that new place and seeing it all black and burned. It's been determined a total loss.
"But at the same time," Al continued, "we were happy no one was hurt, killed or injured during the fire, or while the firefighters were putting it out."
Mutual aid response brought firefighters from five departments including Sartell, Rockville, St. Cloud Township and Waite Park, as well as St. Joseph.
"The St. Joseph Fire Department was here until the next morning – nearly 24 hours after the fire began," Al said.
"They had an aerial ladder shooting water into the back room," he continued. "The water splashing back into the room salvaged the slaughter room, but may have prevented them from saving more of the front of the building, which housed large cutting and storage areas, a large freezer, an office and a sausage spice area."
Construction is already under way for the new fireproof building, which will be located on the same land the previous building occupied. Completion date is set for Aug. 1, but the Pfannensteins are optimistic it may be finished earlier.
"The new building will be arranged differently than the one that burned, but we'll be using it for the same purposes," Al said. "Before, we kept pushing back toward the alley adding new rooms and shifting operations from one room to the next as we needed to expand. Now, it will be set up in a more orderly fashion with appropriate positions for equipment."
During the lag period until the new building is completed, the meat market has discontinued doing any custom work, but continues to slaughter whatever is needed for retail selling.
"We've been slaughtering at Plantenberg's Market in Richmond," Al said. "They offered us the place to use until we're ready to go into our own. We've been referring custom work to them. Other than that, business has been going on as good as always."
Al said he hasn't had to lay off anyone of his 15 employees. His part-time help have been scrubbing equipment to salvage what they can; some stainless has been saved.
"I feel fortunate to have the community we do," Al said. "A lot of people were really concerned. We had full support from the city council. Young and old said, 'When you get to scrubbing, give us a call. We'll come and help. We're not kidding about calling us either.'
"Everyone feels good we're rebuilding. They've been offering support and we've had many, many offers to help clean equipment.
"Personally, I was thinking toward retirement, but that left me," Al said. "It went right out of my mind the day of the fire. I won't be able to think about that for a long time now.
"But," Al concluded, "we (Virginia, Al and family) would like to thank everyone involved with the fire and all the people for their support both in cards and in thought."
This metal structure is the only front part of the building yet standing after the March 20, 1989 fire at the St. Joseph Meat Market slaughterhouse. The actual slaughter room in the back of the building was salvaged and will be incorporated into the new slaughterhouse building.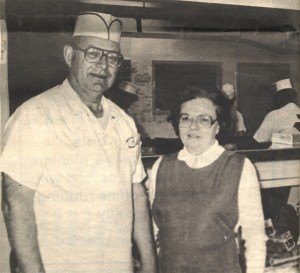 Al and Virginia Pfannenstein, owners of the St. Joseph Meat Market, are running "business as usual" in spite of the fire setback.