by Dennis Dalman
news@thenewsleaders.com
Young bikers galore showed up May 3 for the 10th annual bike rodeo in the parking lot of Sartell City Hall.
The Sartell police officers, who conducted the rodeo, said they had never seen such a good turnout in the 10 years they've offered the event.
People from the CentraCare Health Foundation and Emergency Trauma Services fitted and adjusted more than 100 helmets and gave away 40 helmets to children who didn't have any.
There was a pedestrian-safety trivia wheel and blinky lights provided by CentraCare's BLEND, which stands for Better Living: Exercise and Nutrition Daily.
Bike safety checks and tune-ups were done by Revolution Cycle and Ski.
This year's rodeo was a multi-event in many respects. The Farmers' Market inside city hall coincided with the rodeo. Participants at both events had a chance to review pedestrian maps and the comprehensive Sartell Safe Routes to School planning information. Adults were also able to vote for favorite projects that would be funded if the regional half-cent sales-tax is approved by voters this year. They also had a chance to review the 2014 Sartell City Comprehensive Plan.
Some children at the rodeo signed up for the Kids' Apple Duathlon. Some also signed pledges to become part of the BLEND Fit Kids Club.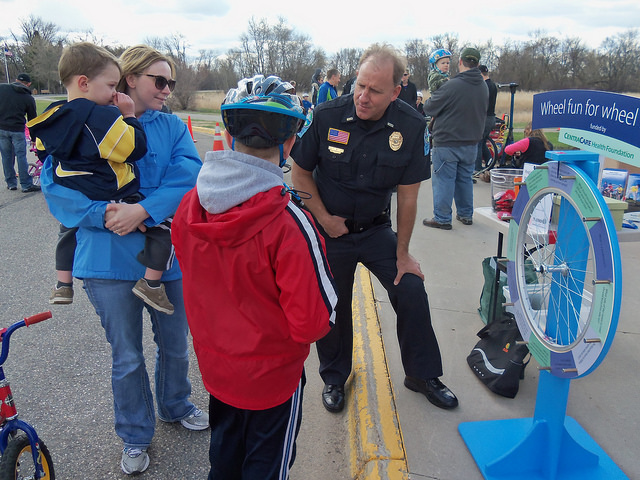 photo by Dennis Dalman
Sartell Police officer Dan Whitson chats with Luke Hintgen of Sartell at the annual bike rodeo on the grounds of Sartell City Hall. To the left are Luke's mother, Julie Hintgen, and his brother, Leo.