July 7, 1989
Stueve proposes Minnesota Street beautification
by Janelle Von Pinnon
Dennis Stueve, owner of Stueve's Garage Inc., St. Joseph, recently proposed a downtown beautification project to city council members and area organizations.
His plan is to beautify the boulevard area in front of St. Joseph's Catholic Church along Minnesota Street from College Avenue W. to First Avenue N.W.
"I proposed we remove the grass and sidewalk presently located there and replace it with paving stone sidewalk," Stueve said, "then provide additional trees planted along the boulevard where the grass is now, surrounded by bench seating.
"Red maple or sugar maple trees have been recommended for the project because they are colorful during one or more seasons."
On May 19, Stueve received unanimous approval by the city for permission to pursue the project.
"There seemed to be a lot of interest from many clubs for this type of project," Stueve continued. "The Rod and Gun Club, the Lions, Jaycees and the Chamber of Commerce have already shown support. I still need to speak to the Legion, VFW and other interested organizations."
Stueve became interested in beautifying the city when he and two other chamber members Sharyll Isakson and Janelle Von Pinnon attended a Minnesota Partners in Progress convention in April.
The convention dealt with various types of projects to improve small-town living such as beautification, restoration and pollution-control efforts.
"The starting of the beautification project is pending on the city's water tower project," Stueve said.
The new, larger water main will have to be installed along Minnesota Street before installation of the water tower and the beautification project can be started.
Recent governmental funding attempts for the water tower were turned down, but the city has reapplied for next year's funding.
"A starting date for both projects is unknown at this time," Stueve said. "We're looking toward assistance in funding for next summer – 1990. Proceeds will hopefully be paid for with gambling money from assisting city clubs – gambling money can be used toward this type of project."
photo by Janelle Von Pinnon
Dennis Stueve shows the location for his future beautification project idea along Minnesota Street between College Avenue and First Avenue NW.
St. Joseph heritage chronicled in Loso's book
by Janelle Von Pinnon
A chronicle of the history of St. Joseph called St. Joseph: Preserving a Heritage by Idelia Loso will be available in book form.
Nearly five years ago, the Stearns County Historical Society requested each community record a history of their area to be preserved at the Heritage Center, St. Cloud.
Several local society members approached Loso to work with them to attain this goal. The original group, consisting of Rose Gohman, Steve Dehler, Rose Mayer, Iver Linnemann, Myra Scherer and Harry Knevel, became a steering committee for the project.
Other interested individuals – Alois Bechtold, Jack Blommer, Sr. Camille Hilgers, Agatha Gertken, Sr. Imogene Blatz, Bob Johnson, Ken Kuebelbeck, Mike Loso, Esther Reischl, Father Vincent Tegeder, Wendelin Walz and Bill Wasner – soon became involved.
"The history became a reality with the cooperation of the community, St. Benedict's College and Convent, St. John's University and Abbey, and St. Cloud State University," Loso said. "The support of SCSU was invaluable in making this volunteer project possible."
The group at first decided a two-part videotape would be the best documentation process and easiest for interested viewers to use. Fred Polesak, SCSU, took charge of the videotaping and script writing.
The first part of the video covers the 1854 to 1920 period and was completed in 1985. The second part covers the 50 years remaining to the present and was released in early 1987.
Additional volunteers for compilation of the second tape were Edith Hiemenz, Mark Loso, Rose Schneider, Sr. Jocelyn, Al Theisen, Tillie Wasner, Kathy Bruns, Kay Derkheising and Sr. André Marthaler.
"Both tapes were well received and were shown to many community organizations," Idelia Loso said.
When the tapes were completed, several people approached members of the committee indicating they would like a book written of the history.
The committee agreed to assist Loso in doing the book. Loso was born in St. Joseph and is a graduate of the College of St. Benedict where she majored in history. She went on to receive two master's degrees, one in history, the other in educational psychology, from the University of Minnesota. She also obtained a doctorate in higher education at the U of M.
"I became involved because of my interest in history and I've always been active in volunteer service," Loso said.
Sr. Marthaler offered to edit and assist in writing the book. Knevel volunteered to take charge of marketing the book.
The group has incorporated, in both tapes and now the book, old pictures, home movies and oral histories on such topics as early Indian history, geography, education, farming, city and township government, business, development, organizations, arts and crafts, recreation, and the colleges and convent influence throughout the past century.
St. Joseph is the third community in Central Minnesota to tackle such a project, according to John Decker, archivist at Heritage Center. Richmond pioneered with an audio visual history produced in 1978. Freeport did the same for its centennial in 1981.
Printing of the St. Joseph book is scheduled for October and copies will be available by Christmas.
Excerpts from various chapters will be published in upcoming editions of the St. Joseph Newsleader.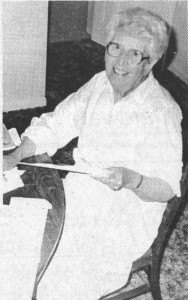 photo by Janelle Von Pinnon
Idelia Loso spends a lot of time cultivating ideas and sifting through notes for her upcoming book, St. Joseph: Preserving a Heritage.