by Heidi L. Everett
news@thenewsleaders.com
Cards, concerts and conversations were once a seasonal staple to connect with seniors during the holidays. COVID-19 has changed that.
"We've been really blessed," said Emily Frericks, director of marketing and public relations with Country Manor in Sartell and Woodcrest of Country Manor in St. Joseph. "Over the years, we've received thousands of cards, which has been wonderful."
At this time, though, they can't distribute mail. As a precautionary measure, mail from non-family is quarantined in a storage room and goes through a rigorous process before it can be shared.
And like so many other gathering spaces today, many of the residents are in isolation or restricted to a small community of residents to interact with at six feet apart and with masks on.
Country Manor and Woodcrest of Country Manor serve between 500 and 700 people a day between their assisted and independent living facilities as well as inpatient and outpatient rehabilitation.
Activities directors have been tapping into their creative sides to maintain that spirit of the season in a time of COVID-19, Frericks said. For example, Woodcrest held its annual holiday door-decorating contest the first week of December. Because residents couldn't go door to door to cast their votes, all doors were photographed and put on Facebook for residents, family and friends to vote.
"We're trying to create programs, so everyone can participate," Frericks said.
Country Manor and Woodcrest also have an internal television channel which originally started to share programming with those who were bedridden.
"This was a new way to bring socializing to our community," Frericks said. "People can tune into this channel and see what is happening."
Residents have already been doing Facetime and video calls.
"They are so proud of their families, and while they can't be face to face or in person, video calling has helped," she said. "It's so sweet when we hear, 'Tommy wants to sing a song for you, grandma and grandpa.' We want everyone to experience this."
Share your videos
The internal television channel is where Frericks hopes people will share videos this holiday season, even if you don't have a family member there.
"More often than not, everybody has a connection. Somebody knows somebody," she said. "This channel allows people to interact with us without having to leave their homes to do it."
"If you are driving around looking at holiday lights, capture it and send it in," Frericks said. "Are you having a mini concert at home or building a gingerbread house? Send it in."
The channel is available to Country Manor and Woodcrest 24 hours a day, seven days a week, so they have ample broadcast time to share videos. (See the "Video Instructions" sidebar for details.)
Frericks also encourages people to follow their social media.
"If people want to tune in to our Facebook page, we are working to increase our online interaction, like Woodcrest did with the door decorating contest," she said.
They can be found on Facebook at countrymanorcampus.
Share your support of staff
Currently, Country Manor and Woodcrest do not have a shortage of supplies, but they are always accepting encouragement for the staff.
"Our staff has been incredible.It's been a long nine months," Frericks said. "What we see all day every day is very heavy. We are covered in full PPE with masks, face shields, goggles and heavy equipment. It's hot and sweaty. Everyone still smiles, checks in and makes sure everyone is OK."
"We are battle-weary," she said, "but staff are rallying to make people feel loved and celebrated. It's something special to see."
Cards of thanks to staff and treats are welcome.
"A candy bar can really make someone's day," Frericks said.
Donations to staff at Country Manor Sartell can be dropped off at Door #1. Call 320-253-1920 in advance, so they can plan for appropriate staffing to meet you outside.
Donations to staff at Woodcrest in St. Joseph can be dropped off at the Main Entrance. Call 320-271-1200 in advance, so they can plan for appropriate staffing to meet you outside.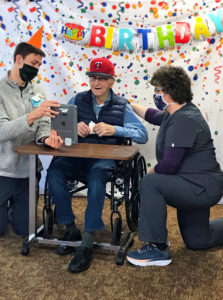 Video instructions
The link for video submissions can be found on the top of the Country Manor homepage: www.countrymanorcampus.org.
Possible video content
Music, singing, playing an instrument
Theater or dance performances
Cooking or baking demonstrations
Craft demonstrations (how to) for tenants to follow along with
Art projects like painting, woodworking or drawing
Trivia with answers
Pets doing tricks or just cute pets
Science projects
Family holiday traditions
Messages of support, love and joy for residents, patients, tenants and staff
Take us on a tour with you on a hike, ice-fishing, hunting to find the perfect Christmas tree, to see Santa. Go Pro videos welcome.
Share jokes (appropriate ones, of course)
Gratitude or reflection
Country Manor families of residents, patients, tenants and staff are also encouraged to share messages to surprise loved ones, like "We can't wait to see you, Grandma! We love you!" or "Thank you for being our personal hero, mom! We love you!"