by Heidi L. Everett
With more than 18,000 residents in Sartell, one might think it's hard to stand out. The Sartell Chamber of Commerce's annual Choice Awards proved otherwise Nov. 12 when Citizen of the Year, Education Professional of the Year and others were honored.
Citizen of the Year
Jessica Lundsetter remembers what it was like in March.
"The stores had empty shelves and were running out of everything from toilet paper to dry goods," she said.
It was the early days of the pandemic, before COVID-19 had claimed the lives of more than 1.3 million worldwide and more than 3,100 in Minnesota.
"Five of us came together at Celebration Lutheran Church and talked about how can we help families, the elderly and those who are immunocompromised and couldn't go to the store to get toilet paper and other items," she said.
They decided to ask members of the community to share their extras.
"If we can ask our neighbors to give extra," she said, "we could be the bridge to get these products to the people who need it."
Lundsetter said it took over a month to really get going. Once it got rolling, "The giving side of it just started pouring in. It was amazing," she said. With donated items filling church classrooms, the CLC Free Community Store was born.
The CLC Free Community Store is a place where people who have lost their jobs or are facing tough times due to COVID can get needed essential items.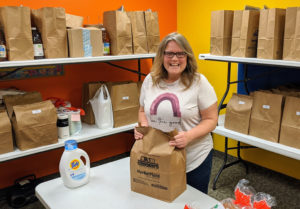 Lundsetter is coordinator of the store, and with the help of three care-team members, Taryn Gentile, Tyler Malotky and Dustin Tomhave, she creates Care Kits and fills tubs with food items, paper products, hygiene products and baby-care items. These tubs are placed outside of the church seven days a week, 24 hours a day, and people in need can just show up to get supplies.
"It's anonymous," Lundsetter said. "You can come in the middle of the night if you need to."
The CLC Free Community Store also has a team of 10 drivers who deliver prepackaged kits to homes. Currently, these Care Kits include seven different food kits and a hygiene kit that has toilet paper, shampoo, conditioner, body wash, a toothbrush and toothpaste. If needed, deodorant and women's feminine hygiene products are add-ons. A household cleaning kit is available as well as a baby care kit with diapers and wipes.
All of this is made possible through donations.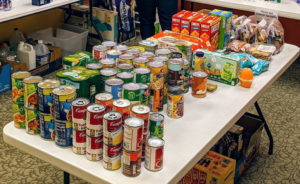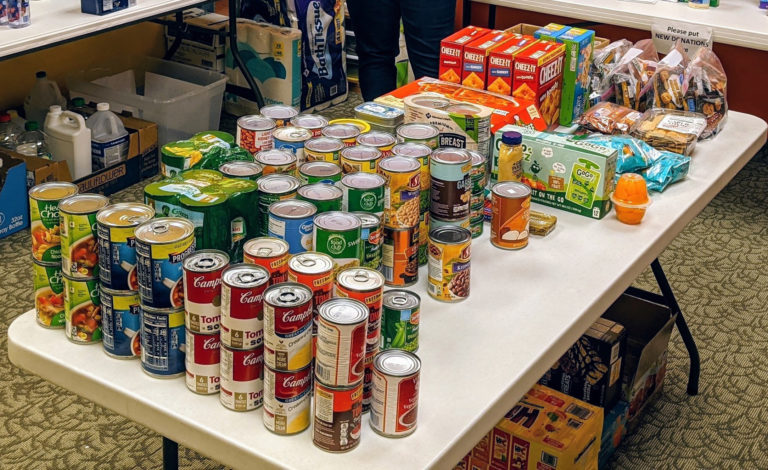 "I'm behind the scenes coordinating and managing inventory that is stored in the church," Lundsetter said. "This might be going just a few streets over. That's what people love to know, that they are helping their neighbors."
Lundsetter hopes it (donations) will continue. "The need is there, and people want to give," she said.
On their busiest weeks so far, 25 families requested kits. The store has given out thousands of pounds of food and has helped hundreds of families with individual items.
"It's been really eye-opening," Lundsetter said. "It's way more than we would've ever expected."
Currently, Lundsetter doesn't work outside of the home, although she was educated as a therapist. She has a high-school student, Ella, and a 3-year-old, Miles. The flexibility in her schedule allows her to focus on the store.
"I feel like this is something that I was made for in this moment," she said.
"It's been amazing to see the community come together like this," Lundsetter said. "I get to witness this every day. It's people saying we don't want our neighbors to be without or to struggle more than they have to right now. "
Lundsetter also was a finalist in the St. Cloud Financial Credit Union's 2020 Changemaker Awards in November.
Education Professional of the Year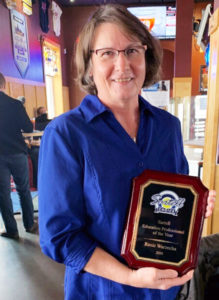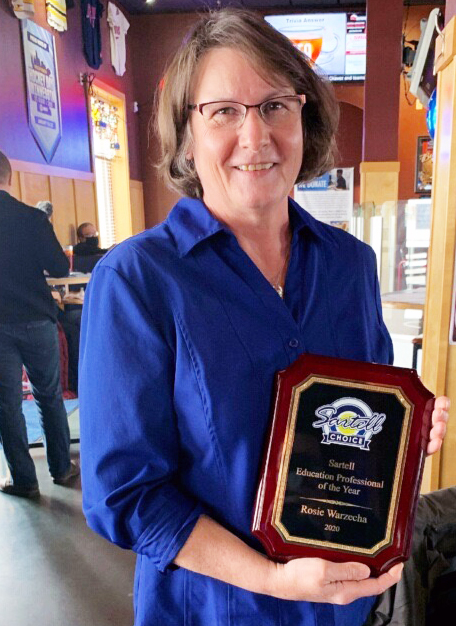 At 3:45 a.m., Rosie Warzecha's alarm goes off. She has her coffee and cereal and then "leaves the yard by 5:30" to get to her job as head custodian at Pine Meadow Primary School in Sartell by 6 a.m. She unlocks the building, checks all the doors, windows and boilers, and salts the sidewalks in winter. Then she gets to cleaning the classrooms.
She's been doing this for 21 years, Monday through Friday.
"I love my job. I love the kids. I love coming to work every day," she said.
Warzecha also responds to the fire alarms that are triggered in the middle of the night. On weekends, she does routine checks of the buildings and boilers too.
"I have high expectations when it comes to keeping our school building clean," she said. "This year especially, I am very aware of the importance of my profession, and I do not take my responsibilities lightly. My team does an amazing job."
Others are also aware and appreciative.
Warzecha received the Education Professional of the Year award. She was nominated along with nine others and was "speechless" when she won.
"I thought, 'They're not going to give it to a head custodian!'" she said.
Sara Nelson, principal at Pine Meadow, disagrees. In an email to the school, she noted, "Rosie's tireless efforts to provide the best environment possible for every child who enters PMPS is a testament to her commitment to education and excellence. We are so lucky to have her on our team."
Warzecha started her career in the hospitality industry, cooking for weddings and events at local banquet facilities. In 1999, she changed careers to become a custodian.
"I wanted to be amongst the people," she said.
In 2007, she was promoted to head custodian.
Warzecha sees herself as a role model, first by demonstrating how to treat one another.
"I want the students to know they can be kind and respectful," she said.
She also is living proof that females can be successful in careers that are often considered for males.
"You don't have to be a male to do this job," she said.
When asked how she thinks people would describe her, she said, "I'm a hard worker. That started with my parents. We were brought up to work hard."
Her life outside of school supports that. In addition to full-time jobs, she and her husband have a holiday tree farm and more than 130 ewes.
She doesn't have plans to slow down anytime soon.
"Sara [the principal] said I'll know when it's time," Warzecha said. "This is my home. I just love it here. The people here are family."
In addition to Lundsetter and Warzecha, other Sartell Choice honorees include:
• Chamber Member of the Year: Tim Elness, W. Gohman Construction
• Small Business of the Year: Sartell Vibe
• Large Business of the Year: Sartell Pediatrics
• Healthcare Professional of the Year: Dr. Cody Wendlandt, Sartell Family Medicine
"The Sartell Choice Awards were nothing short of spectacular," said Nikki Sweeter, executive director of the Sartell Chamber of Commerce. "We had the most nominees we've ever had. I think the community realized this year, more than ever, we need to focus on the people and businesses who are doing good in our community and hear their stories. That is what this event is about."