by Dennis Dalman
The Sartell City Council passed a five-month moratorium on any sales of THC edibles so the city can work out an ordinance pertaining to such sales.
The "edibles" are candy gummies, brownies amd more that each contain 5 milligrams of THC, which is an acronym for the tongue-twisting word "tetrahydrocannabinol." Each bag of the "treats" cannot exceed 50 milligrams of THC total, which means there would be a limit of 10 pieces per bag. Derived from hemp, which is the kissing cousin of the marijuana plant, THC is a substance that causes those who ingest it to get an elevated mood, to feel a "high," though reportedly a milder high than from smoking or vaping marijuana.
The Minnesota Legislature legalized the sale of THC edibles and beverages, and legal sales began on July 1. Since then, many cities in Minnesota have been in a tizzy, wondering how to deal with the sudden legalization and how to license the sales. Some have called it "marijuana-legalization lite."
No business in Sartell is selling THC edibles and none had inquired about starting sales in the city, Sartell City Administrator Anna Gruber told the council. However, it's important the city draft an ordinance as soon as possible so sales can be regulated. That would include an age requirement of at least 21, checking the I.D.s (as with alcohol and tobacco purchases) and keeping shops away from schools or other places frequented by children. Such ordinances take time to draft, Gruber emphasized, but she added she is certain one could be completed and possibly council-approved by Dec. 31 of this year.
The city of St. Joseph recently passed a year-long moratorium so it, too, can work out an ordinance. In the meantime, St. Cloud is now working on an ordinance, which is expected to be completed fairly soon. Gruber is hoping the St. Cloud ordinance can be used as a model for other cities in the greater St. Cloud area for the sake of consistency city to city.
If some shop would start selling TCH edibles in Sartell, sales could be prohibited until the ordinance is drafted and approved.
Sartell Mayor Ryan Fitzthum said the Minnesota Legislature legalized TCH edibles too soon. He implied the law was approved almost under radar, with not enough input or study. Compliance checks will be vital in the sales process, Fitzthum added.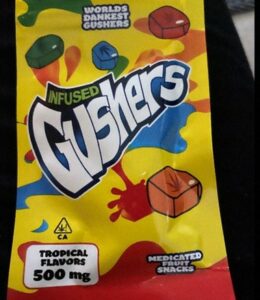 online photo
This is just one example of how the hemp derivative THC is being marketed in bright colorful bags that would naturally attract the attention of children.