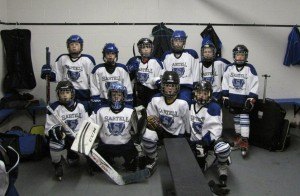 Luke Payne of Sartell, Minn., has been accepted for admission for the 2015-16 academic year at Luther College in Decorah, Iowa. He has been awarded the president's scholarship.
Sartell High School was among 10 area schools who received more than $10,000 from the Central Minnesota Builders' Association to enhance its building technology classes. Nick Phillips, the technology trades instructor at Sartell High School, submitted the grant request. The Tech Ed Department plans to purchase new drills for its construction class, which builds a storage shed every year as part of their class. The class teaches framing, siding, flooring, roof-truss calculations, roofing and material-cost estimation.
The Tools for Schools, an educational project developed in 2004 by the CMBA, helps fund projects such as update/purchase tools, tours and building projects. Through involvement with schools and educators, CMBA hopes to promote the benefits of working in the building industry as a career destination and understanding about the wide variety of jobs associated with building and selling a home, skill levels required, wages and benefits offered, and career paths available. The ultimate goal is to help address the building industry's labor shortages. CMBA has contributed more than $52,000 to area high schools during the course of 11 years.
The CMBA is a non-profit professional association, with more than 20,000 employees in the member companies representing all phases of the building industry. The CMBA strives to improve the Central Minnesota community and grow its membership base by promoting the association to the public, educating the community about building industry best practices, and advocating for the building industry at the local, state and national level.
Cecelia Jorud, a Sartell native, has been promoted to personal banking officer at Bell State Bank and Trust, located at 3100 13th Ave. S in Fargo. In her new position, Jorud will open deposit accounts, help customers with consumer-lending transactions, and pursue new-business relationships. Jorud attends North Dakota State University and has been at Bell State Bank and Trust for two-and-a-half years. She currently lives in Fargo.
Taylor Daniels, daughter of Ellen and Mark Daniels, Sartell, was recently accepted at the University of Minnesota-Twin Cities. Daniels is a 2013 graduate of Sartell High School.