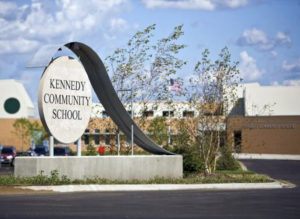 by Heidi L. Everett
news@thenewsleaders.com
Holly Zabinski's initial anger has subsided since the announcement that St. Cloud Area School District will move to distance learning Nov. 30 for preschool and elementary students.
"I anticipated it but was still disappointed," she said. "It seemed like Kennedy wasn't having as many COVID cases or we weren't hearing about them. It wasn't welcome news."
Zabinski has three students attending Kennedy Community School. Charlie is in eighth grade, Caleb is in sixth grade, and Isaac is in second grade.
Charlie and Caleb switched to distance learning in mid-October after spending the first month of school in a hybrid learning model where they attended school two days a week. Since then, they've been spending their time on Google Meets with live teaching most of the day Monday through Thursday.
"It's much better than last spring when they'd get a whole bunch of assignments and just have to complete them on their own," Zabinski said. "We also didn't have devices for them last year."
Now, the boys have "makeshift tables and folding chairs" to work at and tablets from school. The Zabinskis also invested in a laptop. "We had an ancient device. The mic didn't work. We didn't have cameras."
Zabinski makes a menu of "stuff they can make on their own" for lunch.
"I get home and it looks like a bomb went off sometimes, but they are fed," she said.
With Isaac moving to distance learning, the days are going to get complicated.
"That's a whole different story," Zabinksi said. "Even though Charlie is 13, he can't babysit. He needs to be in class."
On election day, classes weren't in session, so Zabinski got a test run of what it would be like to have all three boys at home.
"I went to work in the morning and had two phone calls by 7:30 a.m.," she said.
Zabinski works for the Veterans Administration in medical records. The VA has been flexible, allowing some employees to telework if it aligns with job function or to work split shifts in the mornings and evenings to be home more during the day.
Zabinski's husband, Lee, works for the U.S. Department of Agriculture and farms part time. While he can be home occasionally, he is in the field, literally, for work.
To each his own
Zabinski knows her three boys are each unique and respond to distance learning differently.
"No kids are the same," she said. "Charlie – after sitting in a Google Meet all day – is antsy and needs to move around. Caleb is shy and reserved, so he's loving distance learning, but he needs socialization."
Then there's Isaac. "He hates it," Zabinski said. "He likes going to school and is a much better person when he goes there.
"Isaac is active. He makes a lot of noise," she said. "I don't get much work done when he's around, but I don't want to stick him on a device all day to keep him busy."
Isaac also doesn't listen to his mother as well as he listens to his teachers regarding assignments, she said. Because of this, Zabinski said she worries about his grades.
She's concerned about all of the boys' personal growth too.
"It's a lot of together time. We are all here," she said. "They don't have their own life right now – their friends, their people. When they went to school, they were their own person. They are missing out on that."
What works for some
doesn't work for others
In another household, Malorie DeWenter says she shares many of Zabinski's concerns and a host of others.
DeWenter's children are Hudson, a first-grader at Kennedy, and Stella, a second-grader. DeWenter works at a credit union. Her husband delivers fuel, working 12-hour days, five days a week. "He's usually pretty tired," she said.
On top of that, they are expecting their third child in early 2021.
DeWenter's job responsibilities don't permit her to work from home. "My husband is the money maker, so it makes sense for me to have to stay home," she said. "My hours will be drastically cut back at work to be home with the kids."
She's worried this reduction in hours will hurt their plans for maternity leave.
If that weren't enough, Stella has dyslexia. "The teachers are rock stars, but online learning for elementary kids is tough, especially with learning disabilities," DeWenter said. Her daughter's tutoring services and schooling will both be distance.
"I'm taking it day by day. You just have to laugh sometimes," DeWenter said. "I'm a little nervous about how it's going to change with all of us being home. I'm only one person."
School district trying
to ease burden
Zabinski and DeWenter both acknowledge that District 742 has made distance learning much more engaging since schools first went online in March. Students have live learning online all day and have a schedule that mirrors what they would have if they were in person.
"The schools are really doing their best," DeWenter said. "I truly believe they are doing the best they can."
"I know it's putting a big strain on the teachers also," Zabinski said.
The school district will continue to provide free meals to all students via neighborhood drop locations. This practice was started in September 2020 with the U.S. Department of Agriculture's extension of the Summer Food Service Program.
To let kids be kids in a social environment, a virtual pet show was held online for middle school students recently, facilitated by a school counselor. Kids logged in to a private event on Google Meets, shared their pets with attendees, talked about the quirks of their pets, and explained what was needed to care for the pets.
"Kids are so resilient," said Anna Wilhite, principal at Kennedy Community School. "I'm so impressed."
Perhaps Kennedy's greatest strength to navigating COVID-19 is the people – the kids, the families, the teachers, the staff.
"Kennedy is Kennedy," Wilhite said. "We have amazing people in our community leaning on each other, interacting with grace and understanding, and learning from each other every day."
District 742 moves
all grades online
With COVID-19 cases on the rise, St. Cloud Area School District announced it will move to distance learning Nov. 30 for preschool and elementary students.
According to its COVID-19 dashboard, the district had 26 active COVID cases among students and staff Nov. 5. In addition, 424 students and staff were in quarantine for exposure, symptoms or positive test results.
At the start of the school year, all students were in a hybrid learning model, which provides a combination of in-person and distance learning. Students attend school in-person two days weekly and three days online. Students were assigned Monday and Wednesday or Tuesday and Thursday to allow for reduced capacity and social distancing on busses and in the schools. Grades six through 12 started distance learning in mid-October.
Following the Nov. 4 Board of Education meeting, the transition schedule was announced:
Nov. 23-25: No school for preschool and elementary students as staff prepare for distance learning.
Nov. 30: All students begin distance learning.
The intent is for preschool and elementary students to return to the hybrid learning model after winter break Jan. 4.