by Heidi L. Everett
news@thenewsleaders.com
Gov. Tim Walz announced a four-week dial back to control the spread of COVID-19 Nov. 18.
This new guidance, which took effect Friday, Nov. 20, pauses all adult and youth sporting events, in-person social gatherings, dining, sports and fitness centers. Retail, salons, places of worship and other activities may continue to operate under current restrictions.
The new restrictions come as the spread of COVID-19 skyrockets across the state and hospitals voice concern about the ability to treat those who fall ill.
As of Nov. 19, St. Joseph had 734 confirmed or probable cases of COVID. Sartell had 1,333 cases, and St. Stephen had 60 cases, according to the Minnesota Department of Health dashboard by zip code.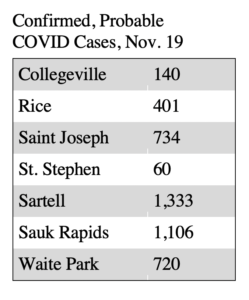 Until Friday, Dec. 18, in-person social gatherings with individuals outside your household are prohibited; bars and restaurants are dialed back to take-out and delivery service only; gyms, fitness studios, entertainment venues, event spaces and similar establishments will need to close; and adult and youth sports are paused. Retail businesses, salons and places of worship may continue to operate with proper precautions in place. Childcare remains open. Schools will continue to operate under the Safe Learning Plan, which shifts between in-person, distance and hybrid learning depending on the local conditions of the virus. All other current restrictions also remain in effect.
The pandemic has reached a concerning and dangerous phase throughout much of the Midwest this November. It took 29 weeks to reach 100,000 infections in Minnesota, and just six weeks after that to reach 200,000. Less than three weeks after reaching 200,000 infections, Minnesota will reach 300,000 infections.
"To all Minnesotans who are struggling to get by, I know this pandemic is devastating," Walz said. "This pandemic is not fair. We need federal support to help keep our businesses afloat, our workers paid and our families with food on the table. I will continue to fight with every fiber of my being for that support that you need and deserve."