Hennes
Kara Hennes, OSB, St. Joseph, was recently awarded the Healthcare Hero – clinical professional award during St. Cloud Hospital's annual Spirit of Women Awards Program. Celebrating the spirit of women, these awards recognize the talent and dedication of those who make their communities healthier, safer and more inspirational places to live. She will receive recognition from CentraCare Health Foundation and St. Cloud Hospital, along with a $1,000 award to further her commitment to her community.
Hennes has worked at St. Cloud Hospital for 42 years in a variety of capacities, including staff nurse, director of nursing, vice president for nursing, vice president for patient care, St. Cloud Hospital board member and most recently on the executive team as chairman of the board of trustees. Hennes worked "to ensure the most qualified staff serve the patients, bringing decision-making to the bedside." This mindset founded by Hennes provided the strong nursing practice philosophy that helped St. Cloud Hospital achieve Magnet® designation in 2004, 2009 and 2013 for its continued excellence in nursing and patient care.
About Spirit of Women
St. Cloud Hospital is a member of Spirit of Women®, an elite network of American hospitals working together to achieve high standards of excellence in women's health. Created in 1998 by Spirit of Women, the Spirit of Women Awards are held annually by Spirit hospitals to honor unsung heroes in communities across the United States. So far, more than 900 women have been recognized and awarded for their efforts.
Amber Sunder, of St. Joseph, was recently named to the spring dean's list at Belmont University, Nashville, Tenn. Eligibility is based on a 3.5 grade-point average.
Andrew Hellmann, St. Joseph, was recently named to the spring dean's list at North Dakota State University, Fargo. He is majoring in psychology. A student must earn a 3.50 grade-point average or higher to qualify.
photos by S. Karen Streveler
St. Benedict's Monastery recognized its 60th jubilarians on May 3. They are (front row, left to right) Sisters Gretchen Jumbeck, Benet Frandrup, Jean Gibson, Cynthia Schmit and Ann Machtemes; and (back row) Sisters Joan Felling, Michon Lanners, Margaret Michaud, Michaela Hedican, Merle Nolde, Louise Koltes and Eunice Antony. St. Cloud Bishop Donald Kettler presided at Eucharist and joined the nuns for a celebratory lunch. St. Benedict's will honor 50th jubilarians on July 20.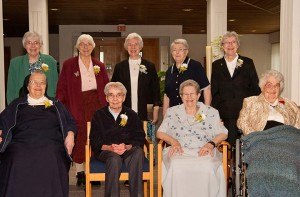 St. Scholastica Convent recognized its Jubilarians May 21. They are (front row, left to right) Sisters Gretchen Jumbeck, Shaun O'Meara, Jean Gibson and Hildebrand Eickhoff; Sisters Merle Nolde, Louise Koltes, Michaela Hedican, Dorothy Heinen and Maribeth Theis. Photographer: S. Karen Streveler